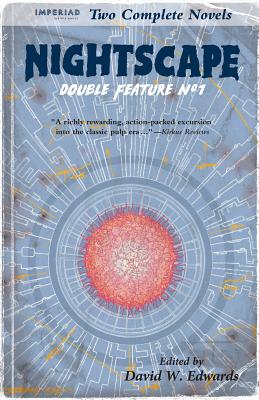 Nightscape Double Feature No. 1 (Paperback)
Imperiad Entertainment, 9780692787373, 312pp.
Publication Date: December 7, 2016
* Individual store prices may vary.
Description
The debut of a bold new series of literary pulps Genre veteran Derrick Ferguson, series creator David W. Edwards and newcomer Arlen M. Todd offer uniquely compelling takes on the Nightscape mythos. Superhuman soldiers, secret animal cults, marooned alien gods, masked detectives, crystalline ghosts and surreal apocalypse weapons-this one is chock-a-block with pulp-inspired weirdness The first novel, The Thousand-Eyed Fear, follows a ragtag squad of teen soldiers on their WW1 mission to infiltrate a secret German research facility and either steal or destroy the prototype for an advanced tank. They discover much more than their military intelligence led them to believe, however, and must find new strengths if they're to stop the Kaiser from gaining an unstoppable supernatural power. The companion novel, The Q for Damnation, deals with the unexpected consequences of the first. On the eve of WW2, France's masked vigilante-detective, Monteau, must solve the murder of a longtime friend-and fast -in order to prevent the Nazis from obtaining a work of art that could grant them control of every mind on earth. She relies on a unique combination of combat skills and surrealist art techniques in her desperate attempt to save a world on the brink.
About the Author
David W. Edwards is the writer, director and producer of the feature film Nightscape, author of the novels Nightscape: The Dreams of Devils and Nightscape: Cynopolis, and producer/co-writer of the concept album, To Sin Against Our Mercies. He attended the University of Southern California's prestigious screenwriting program and earned bachelor's and master's degrees in English Literature while working for a variety of Hollywood production companies. He's the founder and former CEO of a successful high-tech market research firm, and a former two-term state representative. He currently lives in Oregon with his family.