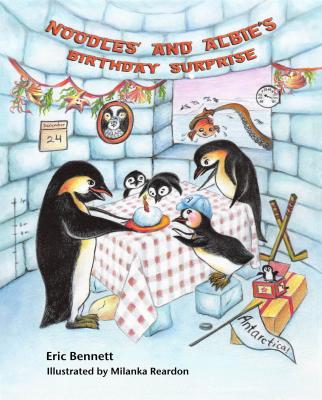 Noodles' & Albie's Birthday Surprise
Hardcover

* Individual store prices may vary.
Description
Noodles' & Albie's Birthday Surprise is the continuing adventures of Noodles (a penguin) and Albie (his fish friend). The story takes place on the day of Noodles birthday, which happens to be December 24th. While waiting for his party to start, Noodles and his friends play on the ice while a group of red jacket wearing tourists from a nearby cruise ship take the penguins pictures. Meanwhile, his friend Albie is under the sea searching for the perfect birthday gift for Noodles. She eventually comes across an old compass from a sunken treasure chest, which is perfect for Noodles as in the first Noodles & Albie story (2014), he had some major sense of direction issues. After giving Noodles his compass, the two friends head off for a day at Polar Kingdom, the world's greatest undersea amusement park. After a fun day, the pair begin their journey home, but soon notice a red glow up ahead on the oceans surface. The glow it turns out is coming from the nose of one of the strange animals they come across stranded on an ice floe, along with a mysterious red jacket wearing "tourist" with a white beard, and a sled full of boxes. It turns out the mysterious tourist is lost because his assistants insisted he try a GPS devise to help guide him. Now the chubby, old man is hopelessly lost. Not only is he lost, but he's on a deadline, and he's in Antarctica. He can't find his way back on track because it's always daylight in Antarctica in December, and the poor tourist can't even see the North Star to navigate. He needs to get North and fast. Will Noodles help the lost tourist by giving him his compass?
Praise For Noodles' & Albie's Birthday Surprise…
UnleashingReaders.com
Noodles' and Albie's Birthday Surprise takes readers on a second adventure of two best friends that is just as wonderful as the first and with a delightful cameo the reader doesn't see coming. Teachers and students will find much to discuss as they read this humorous, clever tale. After reading the first of Noodles' and Albie's stories, we were happy to hear that Eric had written a second to allow us to go on even more adventures with these great friends.


BookwormForKids.com
This is a cute story of penguins, friendship and a dash of Christmas magic, which is sure to warm even the most frozen mood. It's Noodles birthday, and in perfect penguin style, he spends the day frolicking with his polar friends. When his best friend Albie invites him under the sea for a birthday gift and a trip to the Polar Kingdom, an unexpected adventure begins. My favorite thing about this book are the illustrations. They are lovingly drawn with just the right amount of detail to demand attention again and again. The youngest 'readers' will enjoy glancing through and able to see their own story come through every time. Friendship plays a key role as Noodles and Albie enter an exciting adventure, one which is perfect for the intended audience. Even when facing trouble, the two stick together as true friends should.

Publishers Weekly
Noodles the penguin and his fish friend, Albie, get a chance to save Christmas in this humorous follow-up to Noodles and Albie. (Never mind that neither animal has heard of the holiday.) Bennett's story primarily revolves around another celebration: Noodles's birthday, which falls on December 24. Albie gives him a compass as a present, and Noodles quickly re-gifts it after they run into a "chubby tourist" dressed in red, stranded with his reindeer on an Antarctic ice floe. Bennett and Reardon both get in some good jokes: Santa describes how his new GPS system's incessant instructions led him to go off-course, and during a visit to an underwater amusement park, Albie and Noodles take a spin on the Octowhirl ride, an actual octopus. Readers of all ages will also get a kick out of the animals' obliviousness to all things Christmas in this warm friendship story. Ages 4–8.


A sweet, wonderful story about friendship, adventure and giving that will resonate with all children. The illustrations are a perfect compliment to the fun story.

Jude McGowan (Head Children's Librarian, Forbes Library, Northampton, MA)


This is such a cute story, I recommend it to any family.

Lydia Coker (Between the Lines and More)

Children's books need story, information, humor and illustrations. "Noodles' & Albie's Birthday Surprise" puts all those factors to good use.

Tinky Weisblat (Greenfield Recorder)


Penguin Place, 9780692788851, 32pp.
Publication Date: December 6, 2016
About the Author
Eric Bennett was raised in New York City.
After graduating from Queens College
he opened the world's first all-penguin
shop at South St. Seaport. In time, Bennett
began to offer his retail rookery online
at penguingiftshop.com. Eric currently
lives in Northampton, Massachusetts,
with his two fun daughters and a few hundred penguins.


Milanka Reardon's art career began
at the age of 6, when she immigrated to the United
States from the former Republic of Yugoslavia. Since
no one in her school spoke her language, her teachers
sketched images of the English words they were
using to communicate with her. To their dismay,
Milanka spent most of her time trying to draw
has most recently culminated in drawing penguins and fi sh. Along the way, she
earned a children's book illustration certificate from the Rhode Island School of
Design and was awarded the 2016 R. Michelson Galleries Emerging Artist Award.
or
Not Currently Available for Direct Purchase