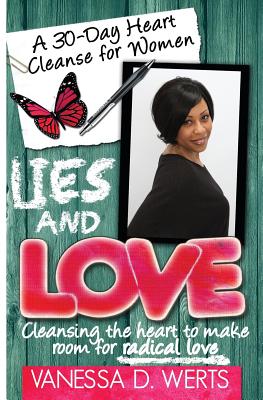 Lies and Love (Paperback)
Cleansing the Heart to Make Room for Radical Love
Higher Realm Publishing, 9780692799307, 114pp.
Publication Date: November 30, 2016
* Individual store prices may vary.
Description
God put a spirit of love on you when he formed you in your mother's womb, and there's nothing you can do about it. The audacity of radical love.
The Lies and Love 30-Day Heart Cleanse is a deliberate approach to rid the heart of lingering issues that affect how you think, and limit your capacity to love and be loved. These heart issues or heart "chaos" as Vanessa calls it, includes feeling abandoned, angry, fearful, jealous, holding grudges, being sad, and hating others. Vanessa says that, this chaos will even lie to you, holding you hostage to your past, to keep you from walking in the fullness of who God created you to be.
"What is your heart story?" is the question Vanessa asks in Lies and Love as she shares her own victory over a chaotic heart that started with daddy issues and sexual assault as a teenager. For years, Vanessa questioned her self-worth until God got her attention with his hurricane winds of love and washed away every lie she ever believed.
In thirty days, Lies and Love will help you identify your heart chaos, walk you through the cleansing process, and inspire you to receive and give love without limits. Vanessa says the key to unlock your breakthrough and healing is held up in your answer to the question: What is your heart story?