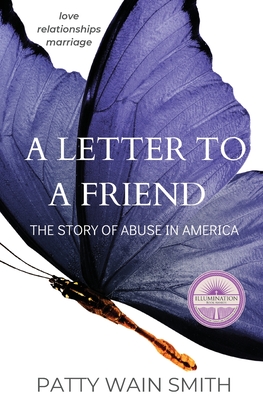 A Letter to a Friend
The Story of Abuse in America
Paperback

* Individual store prices may vary.
Description
WINNER OF THE 2022 ILLUMINATION BOOK AWARDS ENDURING LIGHT SILVER MEDAL FOR CHRISTIAN THOUGHT - A love letter to victims in an inspirational book of hope and love. Discover the one thing that changes everything.
"This incredible book is a gift to every victim." - Vicki Bourus, SC Coalition Against Domestic Violence and Sexual Assault former executive director
INTERNATIONAL BOOK AWARDS FINALIST
Not sure if it's abuse?
Award-winning author, speaker, and survivor Patty Wain Smith understands the confusion and the pain. She knows what it feels like to try everything in a relationship where nothing makes sense and nothing works. She shows us what abuse looks like and a way to the other side - to peace, love, light, happiness, and to freedom - within the empowering embrace of A Letter to a Friend: The Story of Abuse in America.
Patty goes beyond self-help and documentaries. The conversation is intimate, affirming, and relatable for victims and those who want to know why it's so hard to leave.
Gentle, powerful, and unspeakably honest - perfect for someone in an emotionally or physically abusive relationship or still healing from one.
Creative and empowering - the reader becomes part of the story and experiences that empowerment and self-love are elements of the Christian faith.
A Letter to a Friend: The Story of Abuse in America converges psychology, counseling, domestic violence, child development, and Christian principles into a short, powerful read. There's a bonus at the back: a link to an original song that helps the reader grieve - an essential part of recovery. Follow the journey of a survivor who grows stronger and wiser after accepting God's gift, and discover the one thing that changes everything.
A Letter to a Friend: The Story of Abuse in America is the winner of the Illumination Book Awards Enduring Light Silver Medal for Christian Thought; the Writer's Digest Book Awards Honorable Mention for Inspirational; the International Book Awards Finalist for Best New Non-Fiction, Self-Help: Relationships, and Health: Women's Health; and the Living Now Book Awards Bronze Medal for Relationships: Marriage
(New Words Publishing, LLC)
New Words Publishing, 9780692825839, 144pp.
Publication Date: October 5, 2017
About the Author
Award-winning author Patty Wain Smith created and managed the first family violence prevention program at her church, and has worked as a hotline counselor for Parents Anonymous and Citizens Against Spouse Abuse. Smith studied psychology and counseling at the University of South Carolina and Webster University, and is a member of the Psi Chi International Honor Society. She's an experienced Child Development Specialist and Educational Consultant as well as a lifetime advocate for children. The author is a member of the Family Justice Center's Speakers Bureau, and has appeared on Carolina and Company Live television and WRNN radio. She is a longtime South Carolina resident who writes, researches, studies, and reads with her loving dog, Boo, curled up by her feet. In her spare time, she plays piano and guitar, and teaches music. She's a proud member of the South Carolina Writer's Association.