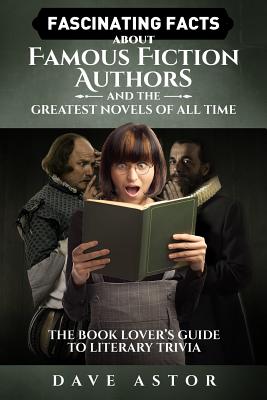 Fascinating Facts about Famous Fiction Authors and the Greatest Novels of All Time (Paperback)
The Book Lover's Guide to Literary Trivia
Daveastorwrites.com, 9780692851487, 172pp.
Publication Date: March 1, 2017
* Individual store prices may vary.
Description
If you love classic literature and reading novels from famous fiction authors then you are going to love this book In Fascinating Facts, literary trivia expert and author Dave Astor provides 100-plus short chapters which contain anecdotes, oddities, coincidences, and of course great trivia about the greatest authors who have ever put pen to paper. It's no surprise that the best writers have interesting facts surrounding them, because famous authors have to be pretty fascinating themselves in order to create the literature we cherish and enjoy so much. Here is a sample of some of the many interesting informational nuggets and gems you will discover:
- The phrase "keeping up with the Joneses" originally referred to the wealthy family in which novelist Edith Wharton (nee Jones) grew up. - Edward Bellamy predicted debit cards in his novel Looking Backward - published in 1888 - The 1950s "Cat in the Hat" character created by Dr. Seuss looks like a feline version of the Uncle Sam character drawn by that same writer for his 1940s editorial cartoons. - Shakespeare and Don Quixote author Miguel de Cervantes died on almost the same day in 1616. - Dorothy Parker bequeathed her money to the Reverend Dr. Martin Luther King, Jr. - O. Henry coined the term "banana republic." Whether you are a bibliophile wanting to know everything about famous authors or just want to wow your friends and amaze your relatives with interesting and entertaining literary trivia, Fascinating Facts is a fun book that you'll return to over and over again. Order your copy today.
About the Author
Dave Astor blogs at DaveAstorOnLiterature.com, is the author of the memoir Comic (and Column) Confessional, serves as a National Society of Newspaper Columnists board member, and writes the weekly -Montclairvoyant- topical-humor column for Baristanet.com after having done that award-winning feature for The Montclair (N.J.) Times from 2003 to early 2017. The Montclair resident is also a former magazine writer/editor, a former newspaper reporter, a former freelance cartoonist, and a graduate of Rutgers and Northwestern universities.