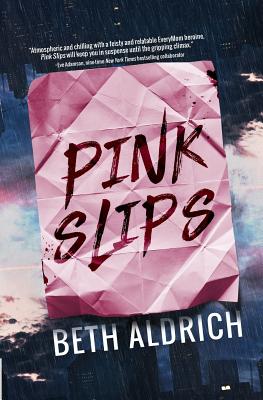 Pink Slips (Paperback)
Restoring Essence, LL, 9780692866009, 266pp.
Publication Date: June 12, 2017
* Individual store prices may vary.
Description
This gripping and emotional debut suspense thriller, Pink Slips, tells a spine-tingling and harrowing story of survival, friendship, doggedness, and love. The inimitable power of the relationship between Betsy Ryan and her beloved dog, Barney, gives this suspense thriller soft spots to counter the uncertainty and intense action.
It's filled with unexpected twists that will keep you page-turning and rooting for Betsy until the early hours. Perfect for fans of The Night Stalker and Gone Girl.
"Aldrich's book delivers a solidly structured and detail-filled plot that starts with a skillful, early buildup of suspense. Like an Agatha Christie novel, the novel makes efficient use of misdirection while adding several suspicious suspects to the mix. The Characters are vividly drawn and believable. The story features an appealing and creative narrative voice." BlueInk Review
"Not since Rosemary's Baby has a book revealed how vulnerable women are when pregnant... Aldrich has Raymond Chandler's (The Lady in the Lake) gift for portraying violent scenes, but has a woman's insight into the especially serious consequences it could have for pregnant women." 5-Star, Indie Reader Review
"Atmospheric and chilling with a feisty and relatable EveryMom heroine, Pink Slips will keep you in suspense until the gripping climax." Eve Adamson, nine-time New York Times bestselling collaborator
Betsy Ryan is pregnant with her third child, and receiving threatening notes from a stalker. During what should be a joyful time in her life, she's forced to face a decade old memory, and relive one of the most devastating nights of her life
In order to uncover the mystery behind the threats, she enlists the help of an unlikely, but oddly reliable source, her dog Barney. As the menacing notes continue to arrive, her husband is called out of town for work, and she struggles to keep her composure while shielding her two young sons from danger. She trusts no one except her parents, best friend Misty, and her extraordinary dog--who has proven to literally understand everything she says. Is this person out to harm her? And how do they have so much personal information about Betsy? She can't help but think it's the same person who attacked her at the train station almost a decade ago, and changed the course of her life forever. To save herself and her unborn child--Betsy must face her fears and find her strength, to reveal who is after her and most importantly...why.
About the Author
Beth Aldrich's non-fiction book, Real Moms Love to Eat (Penguin/NAL, 2012), won a Nautilus Book Award, and four Beverly Hills Book Awards. She published For Her Information, a Chicago magazine for women, and produced/hosted the PBS-TV series, For Her Information, in sixty markets across the United States, in addition to distribution in Israel and Turkey. She's a proud member of Women's Fiction Writers Association, Chicago Writer's Association, and Chicago Off Campus Writer's Workshop. Like her debut fiction protagonist, she studied culinary arts at Le Cordon Bleu in Chicago and her dogs are always at her side.

Praise For Pink Slips…
"Atmospheric and chilling with a feisty and relatable Every-Mom heroine, Pink Slips will keep you in suspense until the gripping climax." ~Eve Adamson, nine-time New York Times bestselling collaborator

"Not since Rosemary's Baby has a book revealed how vulnerable women are when pregnant… Aldrich has Raymond Chandler's (The Lady in the Lake), gift for portraying violent scenes, but has a woman's insight into the especially serious consequences it could have for pregnant women." ~5-Star, Indie Reader Review

"In her delicious first novel, Beth Aldrich has written a spine-tingling thriller about the power of motherhood, friendship, communication, and love. Interwoven with humor and suspense, Pink Slips takes us on a fast-moving ride with unexpected twists and turns along the way. I couldn't stop reading or caring about the characters, and, upon reaching the end, I found myself longing for a sequel!" ~Dr. Sheila Flaherty, Award-winning and a bestselling author of East of Mecca

"As an avid suspense/thriller reader, Beth Aldrich kept me hooked until the very end! The ending of each chapter will keep you wanting more, it's a true page turner! Get in your comfy reading chair, you may not get up until it's over!" ~Deanna A. Amazon Reviewer