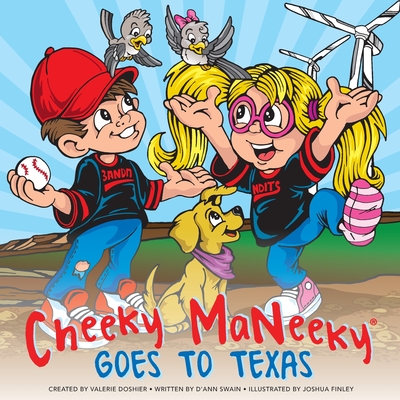 Cheeky MaNeeky Goes to Texas
Paperback

* Individual store prices may vary.
Description
As featured on the America Tonight Show
A magical, action-packed adventure around Texas
Join Cheeky MaNeeky(R), her brother Finn, and best pal Pencil Toes on a magical, action-packed adventure around Texas. Cheeky and her pals learn about helping others as they solve a puzzling problem for their favorite mockingbird family.
Your child will love each adventure they take with Cheeky MaNeeky(R). There is no princess story here Cheeky loves to teach kids about the environment, traveling and helping others.
Created by Valerie Doshier and brought to life by her mother, D'Ann Swain, Cheeky is sure to capture your family's heart. Each illustration is carefully handcrafted by the talented Joshua Finley to show the love and life that Cheeky MaNeeky(R) brings to her world.
Find the other books in the series by searching for Cheeky MaNeeky Goes to Kansas and Cheeky MaNeeky Goes to Colorado
Dream in Magic Publishing, 9780692873847, 50pp.
Publication Date: November 29, 2017
About the Author
My daughter, Valerie Doshier, created this character. It is based on her travels and life as a child. Cheeky looks like Valerie when she was a child-the big pink glasses, the funny outfits, and the pigtails. My daughter died tragically from an aggressive brain tumor when she was 30 years old. She passed from this life on April 11, 2016. Her request of me and her art partner, Joshua Finley, was to bring her dream into reality. She left me many pages in a notebook of ideas for the Cheeky book series. We talked about Cheeky almost daily on the phone. Valerie lived in Denver and was an artist, singer, model, and creative writer. She left explicit instructions on the framework for the book series. Each book has to have these three themes woven into the story: a self-esteem lesson, a family values lesson, and a conservation lesson. The coloring book was released in December 2016 as an introduction to the book series. You're currently in possession of the first book in the series, Cheeky MaNeeky Goes To Texas! Valerie wanted the series to appeal to all children, boy or girl. No princess story here! The stories are written by me, her mother. I write them inspired by her unique spirit and all her childhood antics. The illustrations are done by her art partner and treasured friend, the talented Joshua Finley. The vision and dream are to entertain and inspire children in hopes they will make this planet a better place. As Cheeky would say, "Live your life with your own style." Thank you for helping us make this amazing vision of Valerie's a reality.