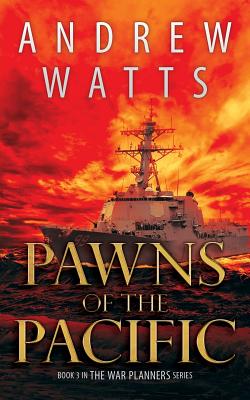 Pawns of the Pacific (War Planners #3)
Paperback

* Individual store prices may vary.
Other Editions of This Title:
Paperback (4/26/2017)
Description
A nation on the brink of war.
A conspiracy that threatens the globe.
And one military family, caught in the middle, fighting for freedom.

Pawns of the Pacific is the electrifying third book in The War Planners espionage thriller series.
While the United States is preparing for war with Iran, Chinese billionaire Cheng Jinshan and his wickedly efficient spy, Lena Chou, are moving their pieces on the board. Deception and misinformation is everywhere.

Now, in order to save America, the leaders in the CIA and Pentagon set up a secretive task force at the CIA headquarters. Their mission: to thwart Jinshan's plans, and reveal the truth to the world.

Each member of the Manning family has a critical role to play. David Manning is brought in to the CIA task force. Chase Manning is sent to team up with a US Marine Corps special operations unit. Admiral Manning leads the USS Ford Carrier Strike Group, filled with America's latest and greatest naval technology. And Lieutenant Commander Victoria Manning is the officer in charge of a helicopter detachment on the navy destroyer, the USS Farragut - the only ship that stands in the way of a Chinese onslaught.

Filled with pulse-pounding action, well-rounded characters, and unpredictable twists, Pawns of the Pacific delivers a satisfying third chapter to The War Planners series.

---------------
The War Planners series reading order:

Book 1: The War Planners
Book 2: The War Stage
Book 3: Pawns of the Pacific
Point Whiskey Publishing, 9780692884836, 446pp.
Publication Date: April 25, 2017
or
Not Currently Available for Direct Purchase