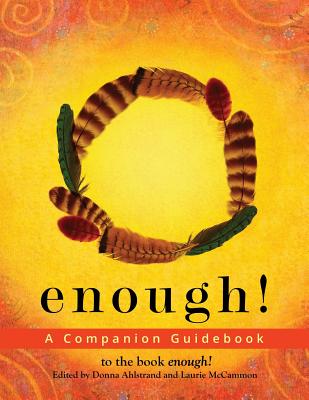 Enough (Paperback)
A Companion Guidebook
Enough Message Books, 9780692935989, 200pp.
Publication Date: September 14, 2017
Other Editions of This Title:
Paperback (4/1/2016)
* Individual store prices may vary.
Description
Seven women's circle experts and one welless expert have co-created the definitive guide to recovering the truth: You are enough and have enough. 100+ hands-on activities for individuals and groups to activate powerful breakthroughs in self-love, healing, relationships, money, empowerment, resilience, trust, community-building and more. Based on the groundbreaking book, Enough How to Liberate Yourself and Transform the World with Just One Word, the guide takes you on a deep dive into your life-long (and humanity's millennia-long) upside-down relationship with the word "enough," a group delusion that is the root of all dysfunction, from personal to planetary. By confronting the untruths you have ingested about not being enough and not having enough, you liberate not only your own hidden power, potential and purpose, but you catalyze humanity's conscious evolution.
About the Author
Laurie McCammon, MS is the author of Enough! How to Liberate Yourself and Change the World with Just One Word (Conari Press, April 2016) and founder of The Enough Message, LLC, a publishing and educational collaborative in service to the awakening of humanity. Collaborators Donna Ahlstrand, Dorothy Rowdy Brewick, Mary Cunningham, Lorraine Lima, Suzan Nolan, Katharina Sebert and TuBears met Laurie through Gather the Women Global Matrix and were joined by Linda Sechrist, Senior Editor of Natural Awakenings Magazine to develop this surprisingly simple yet deeply profound transformational process.