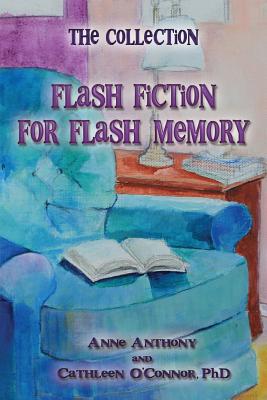 The Collection
Flash Fiction for Flash Memory
Paperback

* Individual store prices may vary.
Description
Experience the Magic of Storytelling
This special anthology is the first one created to deliver that special magic to adults struggling with memory loss, their families, friends and caregivers.
Step into 60 original flash fiction stories that are short enough, between 500 and 750 words, to recall. Get carried along a path of unexpected plots that warm the heart, give chills, stir laughter and surprise.
Meet memorable characters who despite life circumstances reach higher and set their own course; characters who influence opinions about people and situations; characters who inspire.
"Peer through the window into a world of emotions. From the aching loss on a one-lane bridge to the tangled memories that fill an empty box, each story in this collection leads you step by step through heartache and hope, until you realize that you're not looking through a window at all, but into a mirror."
-Monica Sanchez, PhD, Co-editor, Storytelling: Interdisciplinary and Intercultural Perspectives.
Read flash fiction by established and emerging writers from the United States and the United Kingdom who come with a rainbow of backgrounds - organic farmers and backyard chicken farmers, a retired judge, university professors, visual artists, poets, actors and screenwriters, musicians, dog lovers, pastry chefs, a handful of bartenders, a former morgue attendant, obituary writer- each one with a compelling story to tell.
Enjoy the evocative photographs that accompany several stories. Images touch the heart in a way that words and the mind cannot reach.
So, dive in, read to your loved one, and share with family and friends.
Connect, converse and share the magic of storytelling
Anchala Studios, LLC, 9780692991039, 274pp.
Publication Date: February 9, 2018