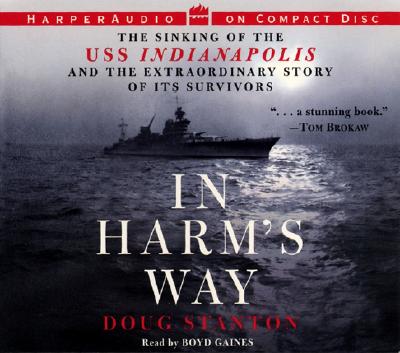 In Harm's Way: The Sinking of the USS Indianapolis and The Extraordinary Story of Its Survivors (Compact Disc, Abridged)
The Sinking of the USS Indianapolis and The Extraordinary Story of Its Survivors
HarperAudio, 9780694524341
Publication Date: April 1, 2001
* Individual store prices may vary.
or
Not Currently Available for Direct Purchase
Description
July 30, 11945. After completing a top secret mission to the island of Tinian to deliver parts of the atom bomb that would be dropped on Hiroshima, the battle cruiser USS Indianapolis was torpedoed in the South Pacific by a Japanese submarine. An estimated 300 men were killed on impact; close to 900 were cast into the sea. After five days, when the Navy accidentally realized the ship was missing, only 321 men were still alive, having battled hypothermia, sharks, and hallucinatory dementia. Four more would die in military hospitals shortly thereafter.
The highly unusual court-martial of the Indianapolis's captain, Charles Butler McVay, opened up the tragedy to scrutiny: How did the Navy fail to realize the ship was missing? Why was it traveling unescorted in enemy waters? And, perhaps most amazingly of all, how did these 317 men manage to survive?
In Hann's Way casts the tragedy of the USS Indianapolis not as a history of war, but as a portrait of men battling the sea. Interweaving the stories of three survivors--Captain McVay; the ship's doctor; and a young marine private--this astonishing human drama is brought to life in a narrative that is at once immediate and timeless.
Read by Boyd Gaines
Advertisement