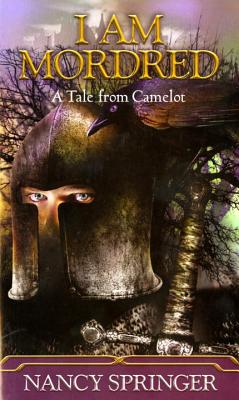 I Am Mordred (Paperback)
A Tale of Camelot
Firebird, 9780698118416, 192pp.
Publication Date: January 14, 2002
Other Editions of This Title:
Prebound (1/1/2002)
* Individual store prices may vary.
Description
Fans of the King Arthur legend will love this tale about one of the most fascinating and misunderstood heroes of Arthurian lore. An epic fantasy comes to life for Camelot fans. 

What will a person give to forsake his destiny? From his very incarnation, Mordred has been a pawn in Camelot's history. Foretold by Merlin that he will grow up to kill his father, the beloved King Arthur, young Mordred struggles with his fate, loathing the great king who tried to kill him as a baby, yet journeying to Camelot where he learns to serve and idolize the legendary leader. Torn between feelings of love and hate, Mordred yearns to make peace with Arthur, who still refuses to acknowledge him. But Mordred is determined to have peace at any price--even if it costs him his soul.
 

"In language worthy of her heroic subject, Springer reworks Arthuriana to craft an original tale resonant with archetypal themes of love, loss, betrayal and reconciliation. Her strong female characters and bold recasting of traditional villains and heroes will draw the rapt attention of both sexes." -- Publishers Weekly
About the Author
Nancy Springer
has published forty novels for adults, young adults and children. In a career beginning shortly after she graduated from Gettysburg College in 1970, Springer wrote for ten years in the imaginary realms of mythological fantasy, then ventured on contemporary fantasy, magical realism, and women's fiction before turning her attention to children's literature. Her novels and stories for middle-grade and young adults range from contemporary realism, mystery/crime, and fantasy to her critically acclaimed novels based on the Arthurian mythos, I AM MORDRED: A TALE OF CAMELOT and I AM MORGAN LE FAY. Springer's children's books have won her two Edgar Allan Poe awards, a Carolyn W. Field award, various Children's Choice honors and numerous ALA Best Book listings. Her most recent series include the Tales of Rowan Hood, featuring Robin Hood's daughter, and the Enola Holmes mysteries, starring the much younger sister of Sherlock Holmes.
Ms. Springer lives in East Berlin, Pennsylvania.
Praise For I Am Mordred: A Tale of Camelot…
"In language worthy of her heroic subject, Springer reworks Arthuriana to craft an original tale resonant with archetypal themes of love, loss, betrayal and reconciliation. Her strong female characters and bold recasting of traditional villains and heroes will draw the rapt attention of both sexes." --Publishers Weekly

"This is an involving, moving story. Although many of the characters have magical abilities, they are portrayed as real human beings. A complex... novel that will reward serious readers." --School Library Journal

"A thoroughly captivating and poignant tale." --Booklist

"This is an unusual but sympathetic view of Mordred, beautifully written with magical images and characters." --Teacher Magazine

"A thrilling and original take on the Arthurian legend, Springer's prose has poise and insight." --TES Primary
or
Not Currently Available for Direct Purchase