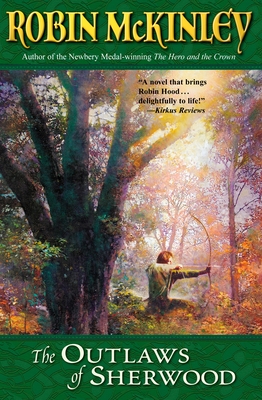 The Outlaws of Sherwood (Paperback)
Firebird, 9780698119598, 352pp.
Publication Date: May 13, 2002
Other Editions of This Title:
Hardcover (10/15/1988)
Paperback (10/4/2005)
Mass Market Paperback (8/1/1989)
* Individual store prices may vary.
Description
Robin Longbow is a sub-apprentice forester in Sherwood Forest, barely eking out a living-and barely able to control his temper when he is confronted by the taunts of the Chief Forester's favorite. One careless shot, and he has killed the man. From then on, Robin is on the run-but he is not alone. Joined first by his friends Much and Marian, then by more and more people who despise the Norman lords who tax them blind, Robin builds a community of Saxon outlaws deep in Sherwood who risk the gallows and the sword for the sake of justice and freedom.

"In the tradition of T. H. White's reincarnation of King Arthur, a novel that brings Robin Hood . . . delightfully to life!" (Kirkus Reviews)
About the Author
Robin McKinley has won various awards and citations for her writing, including the Newbery Medal for The Hero and the Crown and a Newbery Honor for The Blue Sword. Her other books include Sunshine; the New York Times bestseller Spindle's End; two novel-length retellings of the fairy tale Beauty and the Beast, Beauty and Rose Daughter; and a retelling of the Robin Hood legend, The Outlaws of Sherwood. She lives with her husband, the English writer Peter Dickinson.
Praise For The Outlaws of Sherwood…
"McKinley brings to the Robin Hood legend a robustly romantic view. . . . A solid piece of tale-weaving, ingenious and ingenuous, causing readers to suspend belief willingly for a rousing good time."—Publishers Weekly

"Readers ready to think beyond stereotypes of glorious violence will find [this] Robin a hero for our times."—Booklist

"In the tradition of T.H. White's reincarnation of King Arthur, a novel that brings Robin Hood . . . delightfully to life!"—Kirkus Reviews