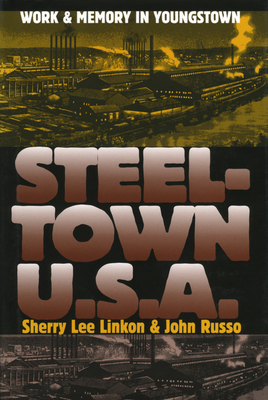 Steeltown U.S.A.
Work and Memory in Youngstown (Culture America)
Paperback

* Individual store prices may vary.
Description
Once the symbol of a robust steel industry and blue-collar economy, Youngstown, Ohio, and its famous Jeannette Blast Furnace have become key icons in the tragic tale of American deindustrialization. Sherry Lee Linkon and John Russo examine the inevitable tension between those discordant visions, which continue to exert great power over Steeltown's citizens as they struggle to redefine their lives. When "the Jenny" was shut down in 1978, 50,000 Youngstown workers lost their jobs, cutting the heart out of the local economy. Even as the community organized a nationally recognized effort to save the mills, the city was rocked by economic devastation, runaway crime, and mob scandal, problems that persist twenty-five years later. In the midst of these struggles the Jenny remained standing as a proud symbol of the community's glory days, still a dominant force in the construction of both individual and collective identities in Youngstown. Focusing on stories and images that both reflect and perpetuate how Youngstown understands itself as a community, Sherry Lee Linkon and John Russo have forged a historical and cultural study of the relationship between community, memory, work, and conflict. Drawing on written texts, visual images, sculptures, films, songs, and interviews with people who have lived and worked in Youngstown, the authors show the importance of memory in forming the collective identity of a place. Steeltown, U.S.A. is a richly developed portrait of a place, showing how images of the Jenny and of Youngstown have been used in national media and connecting these representations to the broader public conversation about work and place: Bruce Springsteen's song "Youngstown," the book Journey to Nowhere, and other pop culture artifacts have helped make Youngstown the symbolic epicenter of American deindustrialization. And while many people see the need to get over the past and on with the future, in rushing to erase the difficult parts of Youngstown's history they might also forget the powerful events that made the city so important, such as the struggles for economic and social justice that improved the lives of steelworkers. This multifaceted study of the meaning of work and place in one community pointedly depicts the relationships among economic development, media representations, and community life. As we see how people's faith in the value of their work dwindled away in Youngstown, their stories can help us understand not only how the meaning of work has changed but also why the changing meaning of work matters.
University Press of Kansas, 9780700612925, 296pp.
Publication Date: June 10, 2002
or
Not Currently Available for Direct Purchase