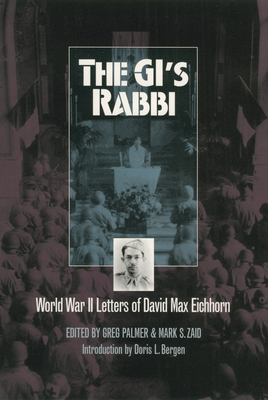 The Gi's Rabbi
World War II Letters of David Max Eichhorn (Modern War Studies)
Hardcover

* Individual store prices may vary.
Description
We saw 39 boxcars loaded with Jewish dead in the Dachau railway yard, 39 carloads of little, shriveled mummies that had literally been starved to death; we saw the gas chambers and crematoria, still filled with charred bones and ashes. And we cried not merely tears of sorrow. We cried tears of hate. He was the soldier in the jeep with the big Star of David, driving from foxhole to foxhole, sometimes under fire, bringing faith and friendship to fighting men. David Max Eichhorn, a Jewish chaplain in the U.S. Army's XV Corps, saw action across France and into Germany until VE-Day and beyond. He was there at the Battle of the Bulge, participated in the liberation of Dachau, and became embroiled in the behind-the-scenes controversy that led to the execution of Private Eddie Slovik. Eichhorn's letters show us a devoutly religious man trying to cope with the perils of combat and the needs of his fellow soldiers. They are filled with amazing stories and poignant insights as Eichhorn tells about combat experiences, relations with Christian chaplains, encounters with Jewish refugees, and impressions of the defeated Germans. Once he was ordered to hold a Yom Kippur service in a beleaguered French town that was still under attack. It was a tough assignment, but after 350 battle-grimed Jewish soldiers showed up he wrote, I tell you unashamedly that, for the first time since I have been in France, I broke down and cried. Yet that experience paled before the liberation of Dachau, where he organized the first Shabbat service for the survivors, or the fall of Nuremberg, where he and a handful of Jews held a ceremony of thanksgiving at the site of Hitler's infamous rallies. Eichhorn also writes of French villagers hiding Jews, of the dangers faced by chaplains, and of the place of Jews in U.S. Army ranks. Throughout he vividly conveys the experience of war and how it altered forever a small-town rabbi--a man of faith and courage who never fired a gun in combat.
University Press of Kansas, 9780700613564, 272pp.
Publication Date: December 18, 2004
or
Not Currently Available for Direct Purchase