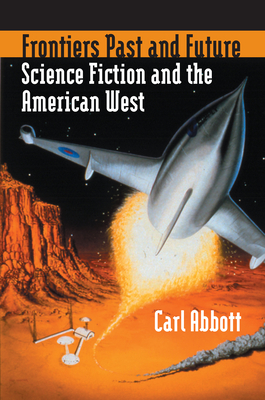 Frontiers Past and Future
Science Fiction and the American West
Hardcover

* Individual store prices may vary.
Description
Will the settlement of Mars prove much different from the settlement of the West? Look to science fiction master Kim Stanley Robinson for fascinating ideas; then turn to historian Carl Abbott for further insights. Over the last half-century, science fiction has witnessed increasing complexity in its treatments of future homesteading, community building, mining, and other themes familiar to western historians. Considering these common threads, this is the first book to explore the ways that science fiction writers have drawn directly on narratives of the American West to frame their visions of the future. Abbott offers a fruitful new way to read science fiction, one that also greatly enriches our understanding of western history and its impact on our collective imagination. Detailing the overlap of science fiction and western fiction--especially relating to their mutual interest in and concerns about frontier expansionism--he reveals an unsuspected common ground that informs the writings of both camps. Reviewing the work of many Hugo and Nebula Award winners, as well as drawing upon popular film and television series (like the Buck Rogers serials), Abbott's study journeys across the far reaches of science fiction's universe. His cast of notables ranges from venerable masters like Robert Heinlein and Fritz Lieber to new-wave feminist Ursula Le Guin and cyberpunk pioneer William Gibson; their settings are as diverse as the near-future West of Octavia Butler and the entrancing extraterrestrial visions of Pamela Sargent, Jonathan Lethem, and C. J. Cherryh. Both enlightening and energizing, Abbott's study deftly shows us how the ways we remember the past greatly influence our ability to imagine multiple futures-in distant universes that appear very strange and yet utterly familiar. Frontiers Past and Future boldly goes where no historian has gone before and rewards us with new insights into our probable pasts and possible futures.
University Press of Kansas, 9780700614301, 240pp.
Publication Date: March 9, 2006
or
Not Currently Available for Direct Purchase