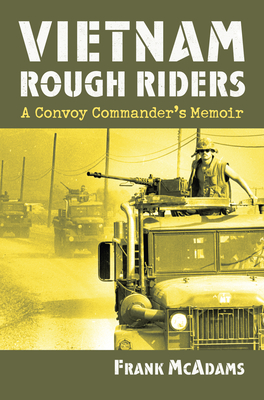 Vietnam Rough Riders (Hardcover)
A Convoy Commander's Memoir (Modern War Studies)
University Press of Kansas, 9780700618989, 263pp.
Publication Date: March 12, 2013
* Individual store prices may vary.
Description
"Black smoke drifted about the scene. The first thing I noticed was the huge crater yawning next to the damaged truck." In the Vietnam War, American "rough riders" drove trucks through hostile territory delivering supplies, equipment, ammunition, weapons, fuel, and reinforcements to troops fighting on the war's ever-shifting front lines. But, all too often, the convoys themselves became the front lines. Frank McAdams, a Marine Corps lieutenant, learned that the hard way during a tour of duty that began right after the 1968 Tet Offensive and the siege at Khe Sanh. In this compelling memoir he recounts his personal battles-not only with a dangerous enemy but also with an incompetent superior and a sometimes indifferent military bureaucracy. A decidedly different take on the Vietnam experience, his chronicle focuses on the ambush-prone truck convoys that snaked their way through dangerous terrain in narrow mountain passes and overgrown jungles. When an ambush occurred, strong leadership and quick thinking were required of officers like McAdams to protect both the convoy's mission and the lives of its men. McAdams describes convoys he led through hot zones like the notorious "Ambush Alley" stretching from Danang through Hai Van Pass to Phu Bai in the north, and the provincial area in the south known as "the Arizona" that surrounded the villages of Phu Loc and An Hoa. He also highlights the fierce three-day firefight that ensnared him and his men near the Song Cau Du River at Hoa Vang, and provides a particularly gripping account of the fighting at Thuong Duc. McAdams deals frankly with his fraught dealings with a commanding officer whose ineptness and treatment of his troops made the CO fear for his own life. And he writes movingly of his wife's love and encouragement in the face of an emotionally tough separation and also of his difficulty in re-engaging with life stateside. Fast-paced and compulsively readable, his book offers an insightful look at a largely neglected aspect of the Vietnam War, while reminding us of how frequently the crucible of war reveals one's true character.
or
Not Currently Available for Direct Purchase