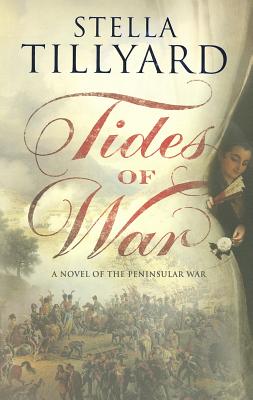 Tides of War (Paperback)
A Novel of the Peninsular War
Chatto & Windus, 9780701183189, 384pp.
Publication Date: June 6, 2011
Other Editions of This Title:
Paperback (10/30/2012)
Hardcover (10/25/2011)
Hardcover (6/6/2011)
* Individual store prices may vary.
Description
An epic romantic novel of the Peninsular War from the acclaimed historian, author of Aristocrats.

A brilliant debut by a wonderful historian, Tides of War is a sweeping, romantic, panoramic historical novel, set in Regency London and in Spain during the Peninsular War, which shows again the narrative talent of Aristocrats, as well as Tillyards's genius for period, atmosphere, character and description.

At its centre stands Harriet, the young, outspoken heroine, on the threshold of adult life. She is newly married, but her soldier husband, James, is about to set off to join Wellington's troops in Spain, accompanied by his friend, a pioneering young doctor, who also falls for Harriet's charms. Left in London, Harriet is taken under the wing of Kitty, Lady Wellington. And while the women plunge into new worlds of politics, finance and science, the men face the bloody reality of the battlefield and the siege of Badajos, testing their endurance to the hilt. James falls fatally for a glamorous Spanish spy, but there are betrayals on both sides and at times it seems their love cannot endure. Their interwoven stories carry us through the tumult of the Regency at home and abroad, and the drama stars a vast cast from the Duke of Wellington and the brilliant money-man, Nathan Rothschild, to a compelling young entrepreneur who brings gas lighting to London, and a down-to-earth sergeant and his exuberant wife.

Tides of War is drenched in an unforgettable atmosphere, from the palms, mantillas and tiles of Seville to the glow of gas lights in foggy London, shining through the spikes of winter trees. As Harriet and James pursue their destinies, facing hope and heartache in equal measure, this stunning novel returns us all to the vivid, lost world of the past.
About the Author
STELLA TILLYARD has been described by Simon Schama as 'dazzling... a phenomenally gifted writer'. Her books include Aristocrats: Caroline, Emily, Louisa and Sarah Lennox,1740-1832; Citizen Lord: Edward Fitzgerald, 1763-1798 and most recently A Royal Affair: George III and his Troublesome Siblings. She has lived in the USA and Italy and now lives in London.
or
Not Currently Available for Direct Purchase