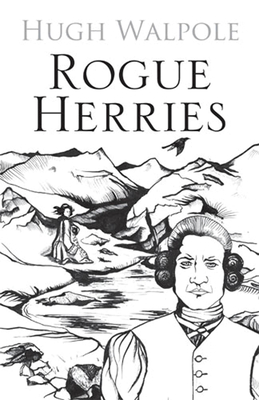 Rogue Herries (Herries Chronicles #1) (Paperback)
Frances Lincoln, 9780711228894, 768pp.
Publication Date: November 22, 2011
Other Editions of This Title:
Paperback (10/6/2019)
Paperback (8/11/2018)
Paperback (12/18/2019)
Paperback (1/1/2020)
Paperback (4/15/2018)
Hardcover (1/1/2011)
Paperback (12/16/2019)
Paperback (5/21/2019)
Paperback (7/17/2019)
Paperback (3/30/2019)
Paperback (9/11/2018)
Paperback (9/24/2019)
Paperback (4/7/2019)
* Individual store prices may vary.
Description
Described on its first publication by John Buchan as the finest English novel since Jude the Obscure, Rogue Herries tells the story of the larger than life Francis Herries who uproots his family from Yorkshire and brings them to live in Borrowdale where their life is as dramatic as the landscape surrounding them. Proud, violent and impetuous he despises his first wife, sells his mistress at a county fair and forms a great love for the teenage gypsy Mirabell Starr. Alongside this turbulent story, runs that of his son David, with enemies of his own, and that of his gentle daughter Deborah with placid dreams that will not be realised in her father's house.

'As a feat both of knowledge and imagination the book is huge' Observer
'A superb work of fiction. There is not one tired listless page' J.B. Priestly The Graphic

About the Author
Eric Robson was born in southern Scotland and has lived most of his life in Cumbria. For the last 15 years he has had a small farm in the southern Lake District where he keeps sheep. A broadcaster and television documentary maker, he got to know Alfred Wainwright uncommonly well while filming with him in the 1980s. He was executive producer of Granada's
Wainwright Country
and consultant for the BBC's
Wainwright Walks
series. He is best known as the presenter of Radio 4's
Gardener's Question Time
, where he sees his job as keeping the panellists from 'straying into horticultural Latin'.
To visit Eric's Striding Edge website click here
Hugh Walpole was one of the most widely admired novelists of the first half of the twentieth century, and the hugely successful Herries Chronicles made him a rich man. Popular amongst, and generous to, other writers, he was knighted in 1937 and died in 1941.
Praise For Rogue Herries (Herries Chronicles #1)…
Modern readers will empathise with the Herries' deep passion for their 'beloved' Fells, their sometimes gloomy and dangerous characters and breathtaking views.
or
Not Currently Available for Direct Purchase