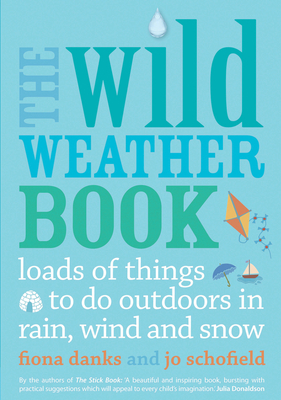 The Wild Weather Book (Paperback)
Loads of things to do outdoors in rain, wind and snow (Going Wild)
Frances Lincoln, 9780711232556, 128pp.
Publication Date: March 1, 2013
* Individual store prices may vary.
Description
It's raining outside - let's get out and play! Don't huddle cooped up indoors on a bad weather day: wrap up in warm clothes or waterproofs and get out of doors for some fun. This book is bursting with wonderful ideas for having fun outdoors even in the most challenging weather! Imagine jumping in the biggest puddle you can find! Or running barefoot and feeling squidgy mud ooze up between your toes!  Or running up the nearest hill to feel the wind try to carry you away! Go on an animal hunt and find the creatures that come out in the wet, or fly a kite in the wind and catch falling leaves! Take your camera into a white wintry world and see how many different icy patterns and shapes you can find.  There are loads of exciting and creative things you can do in the natural world when the weather's wild...so don't wait for the sun, take this book with you and go outdoors for a wild weather adventure!
About the Author
Fiona Danks did a degree in Ecology at Edinburgh University followed by a PGCE in Rural and Environmental Science at Bath College of Higher Education. She worked in environmental education for a number of years, first for the Shropshire Wildlife Trust and then for the Berkshire Buckinghamshire and Oxfordshire Wildlife Trust, organizing training for teachers and taking groups of children out to nature reserves and other wild sites. She then went on to write books about the Chiltern Hills and the Cotswold Hills while working part-time running activities in a pre-school nursery. She currently runs the Trust for Oxfordshire's Environment, a non-profit making company providing grants for a wide range of community and environmental projects across Oxfordshire. Fiona lives in Watlington in Oxfordshire. Through their website www.goingwild.net Jo and Fiona provide more ideas for outdoor activities and an opportunity for debate on the importance of real world adventures for all young people.
For more information on how to encourage children to go outdoors, visit Fiona and Jo's website click here
Praise For The Wild Weather Book: Loads of things to do outdoors in rain, wind and snow (Going Wild)…
"No more huddling by the fire with these 72 surprisingly appealing suggestions for wild things to do in wild weather"
'There are endless project ideas for fun in the fresh air: I wish I had made ice toffee sculptures during the cold snap; instead I am embracing mud castles and water runs'
'every family home should have a copy'
'A companion to The Stick Book this is imaginative and simple.'
'packed with imaginative suggestions - it will put paid to those dreaded words, 'I'm bored.'
'A celebration of the outdoors and all the fun things you can do in it in all kinds of unpropitious weather! Armed with this, families may feel less dread when faced with a really wet holiday.'
 
â??I love the simplicity of all these accessible ideas - all hugely enjoyable and not a sun beam in sight!â?
'an essential read for parents, teachers and anyone involved in the outdoor education of children and young people'
â??Armed with this book youâ??ll have so much fun in the spring showers youâ??ll wonder why you ever stayed indoors!â?
â??this book is proof that even if the rain pours, the wind howls or the snow settles, you can still get outside and have fun.â?Â 
'Enjoy the unpredictability of our weather and embrace the outdoor world in all its seasons'
'use it to inspire rainy day adventures'
'this book would provide me with everything I needed to keep them happy and purposefully engaged for hours! ... With such a clear and attractive layout and high-quality photographs that depict both beauty and spontaneity in equal measure, I would be inspired to get out there and have a go ...' Â  Â  Â 
'use it to inspire rainy day adventures'
'this book would provide me with everything I needed to keep them happy and purposefully engaged for hours! ... With such a clear and attractive layout and high-quality photographs that depict both beauty and spontaneity in equal measure, I would be inspired to get out there and have a go ...'      
'There are endless project ideas for fun in the fresh air: I wish I had made ice toffee sculptures during the cold snap; instead I am embracing mud castles and water runs'