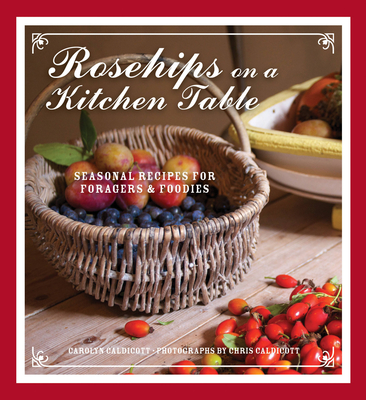 Rosehips on a Kitchen Table (Hardcover)
Seasonal Recipes for Foragers and Foodies
Frances Lincoln, 9780711233881, 128pp.
Publication Date: March 1, 2014
* Individual store prices may vary.
Description
Carolyn Caldicott'sRosehips on the Kitchen Table combines old-fashioned recipes and tips for cooking seasonal ingredients sourced from the hedgerows, as well as local suppliers and farmers' markets. The recipes combine unusual yet traditional ingredients such as nettles, rosehips and elderberries, as well as plenty of ideas for dealing with seasonal gluts and finding and cooking easily foraged food. There are chapters on gleaning, gluts, growing your own and gathering (from shops or hedgerow) plus a section on how to make something out of the most unusual ingredients. Caroline's tried and trusted recipes include delights such as Cob Nut and Rocket Pesto with Maris Piper and Parsnip Gnocchi, Sloe and Elderberry Cider, Wild Garlic and Heritage Potato Dauphinoise and Quince Poached in Vanilla and Cinnamon Syrup. Rosehips on the Kitchen Table is illustrated with Chris Caldicott's evocative photographs of people, places and produce, conjuring up a nostalgic picture of the land, the changing seasons and times past.
About the Author
For many years, Carolyn Caldicott and her husband Chris owned the World Food Cafe in London's Covent Garden, where they cooked and served delicious vegetarian food from recipes collected on their travels. They are the authors of three vegetarian cookery books published by Frances Lincoln. They now live in Winchester.
Chris Caldicott is a journalist and photographer. With his wife Carolyn, he owned and ran the World Food Café in London's Covent Garden. He and Carolyn are co-authors of three Frances Lincoln vegetarian cookery books and his photographs also appear in a wide range of newspapers and magazines. Since 1991 he has been an official photographer for the Royal Geographical Society. He lives in Winchester, U.K.
Praise For Rosehips on a Kitchen Table: Seasonal Recipes for Foragers and Foodies…
' fab cookbook'
â?? a delightful little book of seasonal recipes for foragers and foodies packed with information and good ideasâ??  5 stars
'Here is a gold mine of ideas for the inner foodie within us all; a combination of well written, useful information and beautiful photography in an attractive small format package. Good for recipe reference, an excellent read and, also, a perfect present. Buy it. Read it. Enjoy it.'
' a delightful little book of seasonal recipes for foragers and foodies packed with information and good ideas'Â  5 stars
'Here is a gold mine of ideas for the inner foodie within us all; a combination of well written, useful information and beautiful photography in an attractive small format package. Good for recipe reference, an excellent read and, also, a perfect present. Buy it. Read it. Enjoy it.'
or
Not Currently Available for Direct Purchase