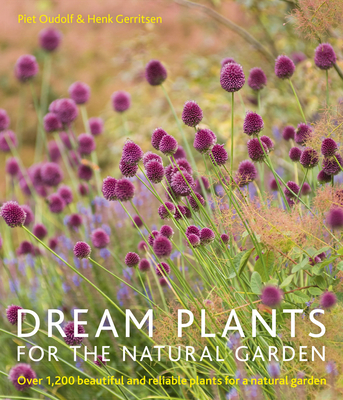 Dream Plants for the Natural Garden (Paperback)
Frances Lincoln, 9780711234628, 144pp.
Publication Date: December 1, 2013
Other Editions of This Title:
Hardcover (11/17/2000)
* Individual store prices may vary.
Description
Join two of the world's most influential garden designers, Piet Oudolf and Henk Gerritsen, as they describe their ideal perennials, bulbs, grasses, ferns and small shrubs for your natural garden. This comprehensive compendium classifies these 1200 plants according to their behaviour, strengths and uses.

An ideal plant is one that is both beautiful and robust, performing reliably with very little input from the gardener – and without artificial fertilizers and pesticides. Rather than striving for big, bold masses of colourful blooms that are vigorously pruned back as soon as they have finished flowering, their innovative approach to gardening involves choosing plants chiefly for their form – leaves, flower heads and stems included – which means they retain their natural beauty through all the seasons. Find within:
1200 beautiful and reliable plants used by top garden designers
Full descriptions and growing instructions
Unique easy-to-follow classification according to growing behaviour and use in the garden
Natural gardening, without artificial fertilizers or pesticides
More than 250 full-colour photographs
With these plants and expert advice, create a garden that will thrive with the life of the insects and birds it welcomes.
About the Author
Piet Oudolf, founder of the New Wave planting movement, is an internationally acclaimed landscape designer who has radically redefined what a garden can be by combining ecology, emotion, and design. As a plantsman, his aim is to emphasize the form, texture, and natural harmony of plants, and as a skilled plant breeder, he creates new varieties for these and other design purposes. His innovative planting aesthetics can be seen across the globe in the many iconic urban spaces he has designed, including New York's High Line, Chicago's Lurie Garden, and London's Serpentine Gallery. His own garden and nursery near Arnhem, Holland, has become world-famous. Piet is the subject of the 2019 feature documentary Five Seasons: The Gardens of Piet Oudolf and has been profiled by The New York Times, PBS News Hour, and The Daily Telegraph. He is the co-author of numerous books, including Planting: A New Perspective, Landscapes in Landscapes, and Planting Design: Gardens in Time and Space. 
 
Distinguished garden designer Henk Gerritsen (1948–2008) was born in Utrecht in the Netherlands. He trained as an artist and made his living as a painter before turning to garden design. He was the author of several books, and his best-known garden design project in the UK was the reconstruction of the Waltham Place gardens in Berkshire. He also started the Priona Gardens in Schuinesloot in the Netherlands with his friend Anton Schlepers.
Praise For Dream Plants for the Natural Garden…
'A Bible for those interested in turning their garden into a naturalistic haven.'