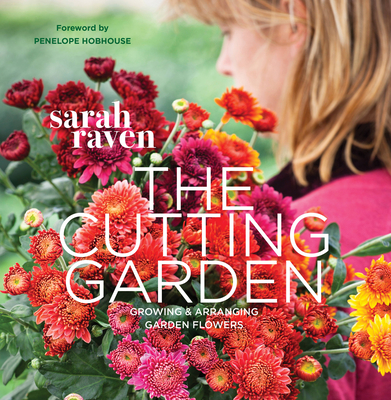 The Cutting Garden (Paperback)
Growing and Arranging Garden Flowers
Frances Lincoln, 9780711234659, 168pp.
Publication Date: May 1, 2013
Other Editions of This Title:
Hardcover (10/17/1996)
* Individual store prices may vary.
Description
This stunning practical guide shows you how to plan and create a cutting garden from which glorious flower arrangements can be created, whether you're a beginner or an experienced flower gardener. From growing decorative flowers and foliage and maintaining a well-stocked cutting garden to creating floral arrangements ranging from simple bunches to romantic hanging globes, swags and medallions, this beautifully presented book provides all the information you need to get started with your own cutting garden. A must-have for any flower-lover's shelf!
About the Author
Penelope Hobhouse is internationally-renowned as a garden designer, writer and historian. She holds the Victoria Medal of Honour, the highest award of the Royal Horticultural Society. She has also received the Lifetime Achievement Award of the Guild of Garden Writers and a Quill and Trowel Award from the Garden Writers Association of America.
To visit Penelope Hobhouse's website click here
Pia Tryde is an internationally-acclaimed photographer. She lives in Sutton, Suffolk.
Sarah Raven, writer, cook, broadcaster and teacher, is an expert on all things to grow, cut and eat from your garden. She runs cooking, flower arranging and gardening courses from her farm in East Sussex and is the author of several books on gardening, including The Cutting Garden, which won the Garden Writers' Guild Award for Best Specialist Gardening Book in 1993. She also writes for national newspapers and magazines and is a presenter on BBC Gardeners' World. Sarah is married to the writer Adam Nicolson and has two daughters and three stepsons. They live at Perch Hill Farm in East Sussex.
Praise For The Cutting Garden: Growing and Arranging Garden Flowers…
'A glorious book providing all you need to know about growing flowers to acheive year-round colour blooms for your home.'
'Sarah Raven is an expert in every aspect of flowers. In this glorious book, she draws on all areas of her knowledge to provide all you need to know about gowing flowers in your own garden, for arranging in your home.'
'From the selection process right through to the end arrangement, this is well-illustrated guide is a must for flower fans.'
'Full of beautiful colour images, this is a comprehensive guide to growing and arranging garden flowers... Sarah's style is dramatic,but her approach is accessible.'
'Sarah Raven is an expert in every aspect of flowers. In this glorious book, she draws on all areas of her knowledge to provide all you need to know about gowing flowers in your own garden, for arranging in your home.'
'A glorious book providing all you need to know about growing flowers to acheive year-round colour blooms for your home.'
'From the selection process right through to the end arrangement, this is well-illustrated guide is a must for flower fans.'