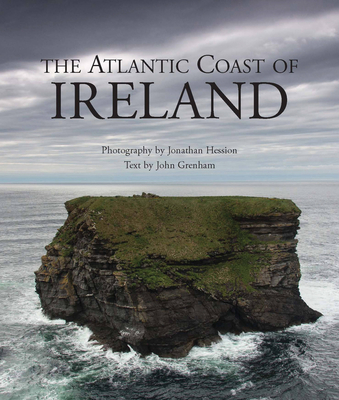 The Atlantic Coast of Ireland (Hardcover)
Frances Lincoln, 9780711235793, 176pp.
Publication Date: October 1, 2014
* Individual store prices may vary.
Description
Visiting the entire length of Ireland's wild Atlantic coast, from the sublime scale of seascape and mountain-scape in Donegal through the barren limestone of West Clare to the lush, quasitropical mountains of the south-west, The Atlantic Coast of Ireland records the landscape in beautiful detail and recounts the stories that echo through it.
The beauty of the Atlantic coast is anything but timeless. These environments embody geology, deep history, ecology, politics, climate, agriculture, religion and much more. The diversity of Ireland's culture and geography combines to produce an acute blend of place and history, found nowhere so intensely as here.
Years in the making, Jonathan Hession's marvellous photographs are complemented by
John Grenham's wise and witty text, introducing each region and examining the themes that arise from their landscape and history. A perfect companion for travellers on the newly inaugurated Wild Atlantic Way, this is a definitive account, and a book to treasure.
About the Author
John Grenham is the author of Tracing your Irish Ancestors (Gill & Macmillan, 3rd ed.2006), the standard guide for Irish genealogy, Clans and Families of Ireland (1995), and An Illustrated History of Ireland (1997), among other works. He has written the "Irish Roots" column in The Irish Times since February 2009, develops heritage databases, and runs the Irish Ancestors website in conjunction with The Irish Times.Jonathan Hession's career meandered through many areas of photography before settling in the film business as a stills photographer on movie sets. He was eventually infected with the garden photography bug by his wife, Jane Powers.
Praise For The Atlantic Coast of Ireland…
"The cover image of Jonathan Hession's The Atlantic Coast of Irelandÿis striking and brave. It's not so much because of the sheer rock face off the coast of Clare in the foreground, but for the background of grey skies and clouds. There are lots more of these in the pages that follow. This is what the Atlantic Coast really looks like, and is no less beautiful for that. The weather is very much part of the landscape, with long shadows cast by heavy clouds, shafts of sunlight breaking through, and roacks glistening after a downpour all featuring in Hession's photography."ÿ
"This glossy coffee-table book covers the length of Ireland's west coast, from the luscious landscapes of the south-west, through the dramatic limestone scenery of West Clare to the granite mountains of Donegal. This barren stretch of coastline has been battered and twisted in the ongoing battle between land and sea for millions of years, and that tale is beautifully told by Jonathan Hession's photographs in a book that was many years in the making." ÿ
or
Not Currently Available for Direct Purchase