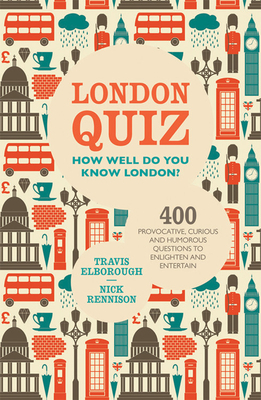 London Quiz (Paperback)
Frances Lincoln, 9780711236066, 240pp.
Publication Date: August 1, 2014
Other Editions of This Title:
Paperback (9/28/2010)
* Individual store prices may vary.
Description
How well do you know London? Here are 400 provocative, curious and humorous questions to enlighten and entertain. Even the most devoted Londoner will learn something new from these fun and wide-ranging trivia questions about London's history, monuments, architecture, famous residents, place-names, notable events, and more. A delightful way to explore the city, this fun book is a perfect stocking filler, with history ranging from obscure lore to facts and fascinating, often humorous histories. Where is the only cross-eyed statue in London and who does it depict? a) Next to the Royal Exchange in the City of London; George Peabody, the nineteenth-century American-born philanthropist b) At the point where Fetter Lane and New Fetter Lane converge; John Wilkes, the eighteenth-century politician c) Islington Green; Sir Hugh Myddleton, the seventeenth-century entrepreneur Answer: b) John Wilkes really did have a severe squint, as reproduced in the statue, but despite his looks, he was a legendary and eloquent womanizer who once said that, when meeting an attractive woman, it took him only ten minutes "to talk away his face."
About the Author
Travis Elborough is an author and social commentator. His books include A Traveller's Year, A London Year, The Long-Player Goodbye, Being A Writer and A Walk in the Park: The Life and Times of a People's Institution. Travis is a regular contributor to Radio 4 and the Guardian, and has penned articles on all aspects of travel and culture, from pirates in the Caribbean to donkeys at the British seaside. He has written for the Times, Sunday Times, New Statesman, BBC History Magazine and Kinfolk among others.
NICK RENNISON has worked as a writer, editor and bookseller for more than twenty years. His London Blue Plaque Guide has been through three editions in the last decade and he has also published The Book of London Lists, described by the London Evening Standard as a book that 'can teach even the most die-hard Londoner something they didn't know'. He lives in Stockport. 
Praise For London Quiz…
'Travis Elborough and Nick Rennison are admirably qualified quizmasters. Herein, they present 20 themed sections of Londony questions that would make Peter Ackroyd wheeze.'
'This is a quiz more fiendish than a game of Monopoly between Sherlock Holmes and Guy Fawkes at the centre of Hampton Court Maze. It's also highly addictive, and you'll learn plenty from the well-explained answers. The perfect stocking filler for anyone who thinks they know London.'
'Travis Elborough and Nick Rennison are admirably qualified quizmasters. Herein, they present 20 themed sections of Londony questions that would make Peter Ackroyd wheeze.'
'This is a quiz more fiendish than a game of Monopoly between Sherlock Holmes and Guy Fawkes at the centre of Hampton Court Maze. Itâ??s also highly addictive, and youâ??ll learn plenty from the well-explained answers. The perfect stocking filler for anyone who thinks they know London.'
or
Not Currently Available for Direct Purchase