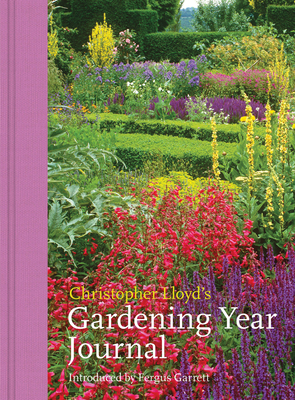 Christopher Lloyd's Gardening Year Journal (Hardcover)
Frances Lincoln, 9780711236820, 192pp.
Publication Date: October 1, 2015
Description
This giftable but lightly journalised edition of the Christopher Lloyd classic gardening reference with sumptuous new photos by Jonathan Buckley and a new introduction from Fergus Garrett. Month by month what to do, what to admire, what to think, what to hope for - with special monthly feature boxes that will highlight colour' and succession', the two aspects that lovers of Christopher Lloyd's planting philosophy are most acutely attuned to.
A new treatment to an old classic of what to do when to create and maintain a beautiful garden. The dream team of Jonathan Buckley, Christopher Lloyd and Fergus Garrett. This classic reference to the gardening year provides adventurous and thoughtful gardeners with the most eloquent writing on the garden in the 20th century accompanied by the outstanding photography.
About the Author
CHRISTOPHER LLOYD OBE was among the best informed, liveliest, most worthwhile gardening writers of our time and the author of a host of classics. He spent years lovingly developing and refining his celebrated gardens at Great Dixter in Sussex. Throughout his career he was unparalleled in gardening journalism, writing for many publications from COUNTRY LIFE to the GUARDIAN. In 1979 the Royal Horticultural Society conferred on him its highest honour, the VICTORIA MEDAL OF HONOUR. He received the OBE for services to horticulture in 2000, and he died in 2006.To visit Jonathan Buckley's website click hereFergus Garrett, Head Gardener at Great Dixter, first worked at the Beth Chatto Gardens as a student, over twenty years ago, and has remained a close friend of Beth's ever since.
Advertisement