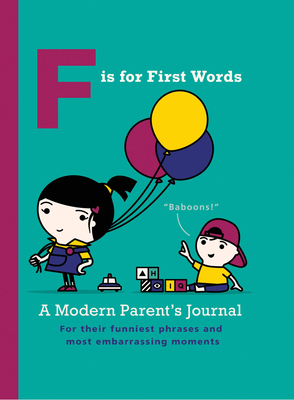 F is for First Words (Diary)
Journal
Frances Lincoln, 9780711237148, 160pp.
Publication Date: August 15, 2015
* Individual store prices may vary.
Description
Kids can drive you crazy. But they can make you laugh like crazy too.
Whether itâ??s â??ghost broccoliâ? (cauliflower), â??booby shelterâ?? (bra), or â??the helloâ? (telephone), they have their own special way of seeing the world.
Now hereâ??s a journal to capture all their classics for posterity. Keep F is for First Words close at hand. And store it safe until itâ??s time for that wedding speechâ?¿
About the Author
JOEL RICKETT is a publisher and a (very) occasional writer. His previous books include How To Avoid Huge Ships and Whitstable Mum in Custard Shortage. He lives in North London (of course), where he's a thoroughly modern parent to two gorgeous, demanding girls.
SPENCER WILSON is an illustrator and co-founder of the design and animation company Peepshow Collective. He has been working to commission since 1998 in a world of coffee cups and ordered chaos; his work follows this theme with the creation of sketchy ideas and twisted thoughts. He lives in the modern parenting paradise that is Berkhamsted, Hertfordshire, with his wife and two girls who never cease to inspire him. www.spencerwilson.co.uk