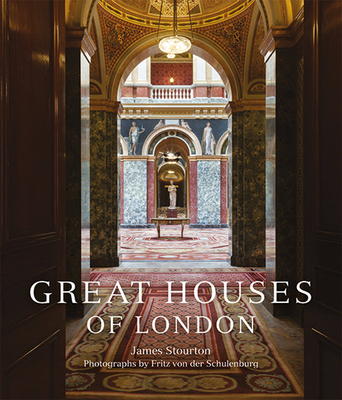 Great Houses of London (Hardcover)
Frances Lincoln, 9780711237223, 328pp.
Publication Date: October 20, 2015
Other Editions of This Title:
Hardcover (10/16/2012)
* Individual store prices may vary.
Description
'This lavishly illustrated compendium suggest that the age of elegance endures' Mail on Sunday
The great houses of London represent one of the marvels of English architecture and yet they are almost entirely unknown. They are for the most part disguised behind sober facades but their riches within are astonishing.
There are many architectural wonders, among them Robert Adam's 20 St James's Square and William Burges's Tower House. Several - including Bridgewater House with its Raphaels and Titians - have held great art collections.
These are houses that hold extraordinary stories: half the Cabinet resigned after breakfast at Stratford House; and on 4 August 1914, at 9 Carlton House Terrace, then the German Embassy, young duty clerk Harold Nicholson deftly substituted one declaration of war for another.
Great Houses of London opens the door to some of the greatest and grandest houses in the world to tell the stories of their owners and occupants, artists and architects, their restoration, adaptation and change.
About the Author
During a photographic career that has spanned over 35 years, FRITZ VON DER SCHULENBURG has achieved international acclaim. His photographs have been published in numerous interior design and architectural magazines, including The World of Interiors, House & Garden and Architectural Digest. He has also published several volumes of his own work. These include: Neoclassicism in the North, The English Garden Room, Romantic Scotland, Empire, and Living by Design.
JAMES STOURTON, formerly chairman of Sotheby's UK, is now working full-time on the authorised biography of Kenneth Clark. His previous books include Great Collectors of our Time: Art Collecting since 1945 and The British as Collectors: A History of British Art Collecting from the Tudors to the Present. He writes regularly for various national papers and magazines.
Praise For Great Houses of London…
'The true fascination resides in the less well-known interiors'
"A treasure ... Best of all are the authors personal asides on builders and those who inspired them"
- Economist
"The true fascination resides in the less well-known interiors"
- RA Magazine
"Writing in a deceptively simple style, Stourton concentrates on architects and artists, on awners and occupants. Idiosyncratic and amusing, he makes you see everything in a new light."
- The Tablet
"This is a truly magnificent book. The wonderful text tells the story of the architects, owners and occupants, restoration, adaptation and change. And the photographs are exceptional."
- Good Book Guide
"The deft weaving of architectural, social and contemporary history will reveal unexpected pleasures"
- Art Quarterly
"Stourton writes elegantly and absorbingly about both architects and owners"
- Marcus Binney, The Times
"This magnificent book, with illustrations of breathtaking beauty specially taken by Fritz von der Schulenburg, is the fullest account ever written of its absorbing subject. It will come as a revelation, even to those who think they are familiar with London . . . The book is . . . not only about architecture, but about people, whose social, artistic and political ambitions, and manner of living, are vividly brought to life . . . We are familiar with the depressing list of great houses demolished in the 20th century, from Devonshire House to Londonderry House, but this book can surely cheer us up during the recession with its visions of surviving splendour."
- David Watkin, Country Life
"This sumptuously illustrated volume...extends its reach both sociologically and chronologically... James Stourton's text is very readable, deftly mingling the architectural history and the social, and on the whole reliable, and it is completemented by Fritz von der Schulenburg's specially taken photographs."
 
- Historic House
"This lavishly illustrated compendium suggest that the age of elegance endures.&rdquo
- Mail on Sunday
'The true fascination resides in the less well-known interiors'
'This magnificent book, with illustrations of breathtaking beauty specially taken by Fritz von der Schulenburg, is the fullest account ever written of its absorbing subject. It will come as a revelation, even to those who think they are familiar with London . . . The book is . . . not only about architecture, but about people, whose social, artistic and political ambitions, and manner of living, are vividly brought to life . . . We are familiar with the depressing list of great houses demolished in the 20th century, from Devonshire House to Londonderry House, but this book can surely cheer us up during the recession with its visions of surviving splendour.'
'This lavishly illustrated compendium suggest that the age of elegance endures'
'This sumptuously illustrated volume...extends its reach both sociologically and chronologically... James Stourton's text is very readable, deftly mingling the architectural history and the social, and on the whole reliable, and it is completemented by Fritz von der Schulenburg's specially taken photographs'
'Writing in a deceptively simple style, Stourton concentrates on architects and artists, on awners and occupants. Idiosyncratic and amusing, he makes you see everything in a new light'
'the deft weaving of architectural, social and contemporary history will reveal unexpected pleasures'  
'A fascinating and witty tour of some of London's most elegant (and most secret) houses and the people who built them'
'Stourton writes elegantly and absorbingly about both architects and owners'
'A treasure ... best of all are the authors personal asides on builders and those who inspired them'
'This is a truly magnificent book. The wonderful text tells the story of the architects, owners and occupants, restoration, adaptation and change. And the photographs are exceptional.'
'A treasure ... best of all are the authors personal asides on builders and those who inspired them'