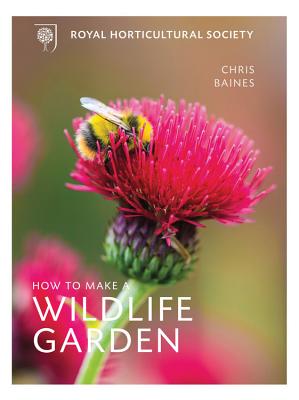 RHS Companion to Wildlife Gardening (Hardcover)
Frances Lincoln, 9780711237919, 272pp.
Publication Date: September 1, 2016
* Individual store prices may vary.
Description
This best-selling book was first published as How to Make a Wildlife Garden, and launched at the 1985 Chelsea Flower Show, making wildlife a mainstream issue for gardeners and the public. Now fully revised and updated by the author, this beautiful new freshly illustrated edition highlights the changes in garden wildlife over the past 30 years. Incorporating RHS research, updated best practice and addressing a multitude of controversial conservation issues, this stunning guide is also a celebration of the rich variety of wild plants and animals that can bring a beautiful garden to life. Packed full of practical advice from which plants to choose for bees, birds and butterflies, how to construct the ideal wildlife pond, where to position nesting boxes and how to enjoy wildlife in any size of outdoor space, this authoritative companion shows how wildlife gardening can make a stylish and enjoyable contribution to the environment, inspiring new gardeners while also delighting the very many owners of the best-selling original.
About the Author
Chris Baines is a leading environmental advisor to industry and government, a broadcaster and prizewinning writer. He created the very first wildlife garden at the Chelsea Flower Show in 1985 and he has been a National Vice President of the Wildlife Trusts for more than 30 years. He was awarded the RSPB medal of honour in 2004.
Author Chris Baines has a multifaceted career as a landscape architect, advisor to industry and government, teacher, writer and broadcaster, but the common theme that runs through all his work is concern for wildlife. He is National Vice President of the Wildlife Trusts, President of the Urban Wildlife Partnership and writes for BBC Wildlife, and is nature correspondent for BBC Gardeners' World magazine. 

The Royal Horticultural Society is the UK's leading gardening charity dedicated to advancing horticulture and promoting good gardening. Its charitable work includes providing expert advice and information, training the next generation of gardeners, creating hands-on opportunities for children to grow plants, and conducting research into plants, pests and environmental issues affecting gardeners.
Praise For RHS Companion to Wildlife Gardening…
"If you have to have but a single book on the subject of gardening for wildlife then this is the one [...] an outstanding book."
- Ray Collier, Highland News Group
"A sumptuous production, no household should be without a copy; however small your garden is, you can still make it better for wildlife."
- David Saunders, Natur Cymru
'This book perfectly illustrates how to make the most of the beauty and abundance of wildlife just outside your back door.'
- Garden Answers
"The original 1985 edition of Chris Baines' How to Make a Wildlife Garden is an old friend, full of advice, promoting a shake-up of perceptions of the over-tidy garden. His latest book is not a revamp, but a true masterpiece written by a man who has immersed himself in the delights of a natural world that is not so hidden, even in the urban environment. Baines draws on his wisdom, sharing gems of knowledge in a captivating and easy-to-follow format...

But it is not just an attractive read. The text is packed with scientific data and consequences of our neglect of nature. What is encouraging is the practical ways it suggests we can all make a difference. 

I would happily read this in the office, quote parts to students or look at the pictures with a child, hoping that the next generation can be more considerate to co-habitants of their environment."
- Garden Design Journal
"The depth of its knowledge and breadth of its scope ensures that it'll stand as the bible of this crucial field for years to come." 
- Morning Star