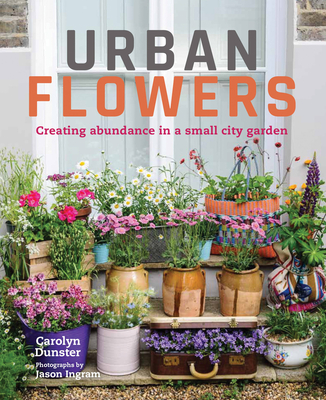 Urban Flowers (Hardcover)
Creating abundance in a small city garden
Frances Lincoln, 9780711238626, 192pp.
Publication Date: April 6, 2017
* Individual store prices may vary.
Description
Creating colour and interest in a small urban garden by growing a range of flowers and other decorative plants brings with it many rewards. Carolyn Dunster shows you what to grow and how to use your own blooms, leaves and berries in a range of indoor displays and hand-tied bouquets. Locally-grown flowers in season is a significant and welcome trend in floristry, and just as eating a tasteless strawberry in December pricks our consciences, so too does purchasing a bouquet of tulips in September, however stunning they may be to look at. The most local, seasonal flowers, which are the most satisfying to give and to display, are the ones you have grown yourself. Carolyn Dunster shows you how to do this in the smallest of spaces.
About the Author
Carolyn Dunster trained in floristry with Jane Packer and now works as a florist and planting designer, running her business, Urban Flowers, from her home in north London. She has written for several magazines including House & Garden and Country Homes & Interiors. She exhibits regularly at garden shows and flower festivals in the UK, and recently co-designed a small cutting garden at the RHS Hampton Court Palace Flower Show behalf of Katie's Lymphoedema Fund, which won the People's Choice Award. She designs planting schemes for small urban plots and grows as many flowers as possible in her own city garden to use in her floristry work. 
Praise For Urban Flowers: Creating abundance in a small city garden…
"this book is ideal for anyone who has ever dreamed of nurturing a garden but simply doesn't have the space. The garden designer Carolyn Dunster offers hundreds of ideas for how to bring life and colour into even the most unprepossing of outdoor areas. Learn which plants will thrive in an urban environment; find out how to make the most effective use of space; experiment with colour; and make your floral scheme last longer by drying or cutting flowers."
- Town & Country magazine
"full of inspiring ideas" 
- My Weekly magazine
 "A great, accessible start for new gardeners and something for the experts too." 
- Reclaim magazine
"This charming book, written by a garden designer and florist, is filled with ideas on how to make the most of even the smallest space.  There is sound advice on choosing plants and colour schemes, and ingenious projects include a herb wall along a fence." 
 
- Daily Mail
"…crammed with fresh new ideas [and] infinite ways of growing flowers in the smallest of spaces, even if it's on a balcony, rooftop, windowsill or perhaps just a vertical wall.  Carolyn's infectious enthusiasm for nurturing and growing plants is constantly woven through the pages of this book and can't fail to inspire city dwellers to buy seeds and plants to decorate their gardens with colour, form and scent. It's a reference guide to dip in and out of for years to come, that should help all urban gardeners realise the horticultural potential of their outside space."
 
- retiremove.co.uk
"Urban Flowers is likely to become the city gardener's bible. This is a book for every town or small-plot gardener, to guide them through everything from soil type to plant choices, design to preserving flowers." 
- The Garden magazine
"Carolyn Dunster has clever ways to cultivate your city patch...this dreamy book marries cottage garden traditions with inventiveness... Inspirational."  
- The Simple Things
 "Dunster is a mastermind in colourful garden designs for small, urban spaces. This book guides you through the art of what to grow, when to grow it and how to create local, seasonal blooms and berries."   
- Archant North London