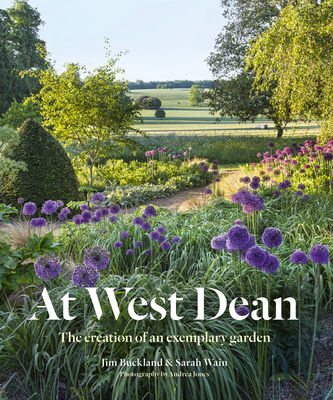 At West Dean (Hardcover)
The Creation of an Exemplary Garden
White Lion Publishing, 9780711238923, 288pp.
Publication Date: October 4, 2018
* Individual store prices may vary.
Description
'I am in awe of what Sarah Wain & Jim Buckland have achieved at West Dean and this superb book is a testament to inspired, uncompromising horticulture at its very best.'
Monty Don

At West Dean is the story of how Sarah Wain and Jim Buckland brought back to life a neglected garden in Sussex and is a celebration of the gardening excellence they have established there.

Super-tidy sheds, meticulously cared for glasshouses, a biomass boiler and steaming compost heaps are the engine that drive the garden forward but these would be nothing without the artistic vision and thoughtful philosophy that Sarah Wain and Jim Buckland bring to this exemplary garden, which attracts thousands of visitors each year. While West Dean's expansive site is the starting point, At West Dean highlights the unique combination of persistence, skill and artistry that make for a successful
garden in any set of circumstances.

Richly illustrated with specially commissioned photographs by award-winning garden photographer Andrea Jones. The glories of the garden through the seasons are shown to their full extent, alongside shots of gardeners at work – pruning and tying in climbers, mowing, raking, labelling, washing pots, stacking canes. The results of their labours enhance the book – carefully pruned trees, exquisite lawns, wildflower meadows, renovated flintwork, beautiful vegetables and freshly topiarized shrubs.

The gardens at West Dean are defined by horticultural rigour and contemporary efficiencies set against a Victorian backdrop. They are also part of the Edward James Foundation along with West Dean College, which is widely respected for its Arts and Crafts education (Edward James was a passionate early supporter of surrealism and was the original recipient of Salvador Dali's famous lobster telephone).

At West Dean sets a sublime standard to aspire to and is a joyful reminder of the infinite rewards to be gained from a hard day's work in the garden.

Praise for West Dean:

'One of Britain's most exemplary centres of practical horticulture.' Robin Lane-Fox, Financial Times

'The kitchen garden has to be one of the most perfect examples of its kind.' Noel Kingsbury, The Telegraph

'Jim and Sarah have given much of their lives to the gardens at West Dean. Over the many years that I have visited the garden I am always amazed at the high level of horticulture that is displayed in the grounds, and under glass. Over 25 years this incredible pair have gardened to a level that is admirable, and inspirational.' Christine Walkden, horticulturist, broadcaster and writer.
About the Author
JIM BUCKLAND graduated with honours from the world famous Diploma in Horticulture at the Royal Botanic Gardens Kew. He managed historic public gardens in both Australia and the UK before arriving at West Dean Gardens as gardens manager in 1991. He is a trustee of the Professional Gardeners' Trust and was awarded the RHS Associate of Honour for distinguished service to horticulture in his professional working life. Jim's role at the gardens in multi-faceted but he has a particular passion for the St Roche's Arboretum which he has reimagined as a tranquil haven of wildflower glades while introducing new tree and shrub planting and applying careful custodianship of its extensive mature tree collection. He has lectured both in the UK and abroad and is a regular contributor to magazines.
SARAH WAIN gained a Diploma in Horticultural Science Australia and then worked in the temperate department at the Royal Botanic Gardens Kew for three years. She managed a local council nursery and the gardens at Burnley Horticultural College in Australia before joining West Dean Gardens as gardens supervisor in 1991. Sarah is a member of the RHS Vegetable Trials Forum and is a recipient of the Professional Gardeners' Guild 'Loyal and Outstanding Service Award' and the Institute of Horticulture Award. Sarah is a horticultural polymath and is, among other things, the brains behind West Dean's wide range of glasshouse crops including ferns, exotic ornamentals, chillies and tomatoes. 
Praise For At West Dean: The Creation of an Exemplary Garden…
'I am in awe of what Sarah Wain & Jim Buckland have achieved at West Dean and this superb book is a testament to inspired, uncompromising horticulture at its very best.'
- Monty Don
Jason Goodwin 'the splendour of the great house...is [now] matched by its setting... The lesson from rebuilding West Dean gardens over the past 27 years might be summed up as Make Haste Slowly.'
- Country Life
Robin Lane Fox 'a beacon of high standards... I have learned much from it and found tips here for us all, proven by the couple's years of hard work.'
- Financial Times
'The lucid text...[is] an unsentimental account of hard-won practical experience.The photographs...are of unsurpassable quality and aptness'
- Spectator
'Sarah Wain and Jim Buckland share their 25-year journey, meticulous work and artistic vision that went into transforming this glorious garden... Illustrated with stunning photography by Andrea Jones, the book provides inspiration and sound advice for all gardeners.'
- Period Living