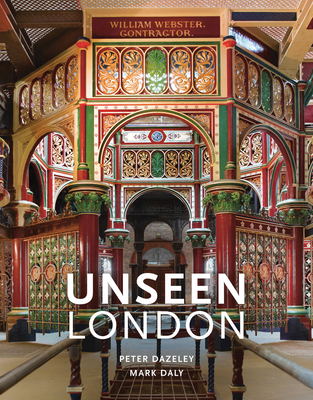 Unseen London (New Edition) (Hardcover)
Frances Lincoln, 9780711239074, 272pp.
Publication Date: September 7, 2017
Other Editions of This Title:
Hardcover (10/14/2014)
* Individual store prices may vary.
Description
From Tower Bridge to Battersea Power Station, Big Ben to the Old Bailey, embark on a thrilling tour of the hidden interiors of some of London's most iconic buildings. Celebrated photographer Peter Dazeley takes you deep into the boiler room of the city's infrastructure, into the changing rooms of our greatest temples of sport, into the heart of the Establishment, and behind the scenes at the most opulent buildings in the Square Mile. Photographs of these extraordinary buildings – some derelict, but many still working – are accompanied by the story of how each of these places was created, how they are used, and what they reveal about the currents of power flowing through the city. See a glimpse of London behind closed doors with this unique guide to the city's buildings, revised and updated for 2017 to include the royal palaces of Hampton Court, the Tower of London and the Inigo Jones Banqueting Hall at Palace of Whitehall, and the Royal Courts of Justice, Supreme Court and Bow Street Magistrates Court.
About the Author
PETER DAZELEY, known as Dazeley, was born in West Kensington and studied photography at Holland Park School, now known as the 'Socialist Eton'. His work has won many awards from organisations across the world, including the Association of Photographers and the Royal Photographic Society in the UK, EPICA in France, Applied Arts Magazine in Canada, and Graphis Inc. in the USA . Dazeley is one of the few modern photographers whose fine art work is produced as platinum prints.
Dazeley became a member of the Association of Photographers in 1977 and became a life member in 1984. In June 2013 he was awarded a Fellowship by the Royal Photographic Society. Fellowship is the highest distinction of the RPS and recognizes original work and outstanding ability. He is the photographer of Unseen London (Frances Lincoln, 2014).
MARK DALY is a writer and publisher with a longstanding interest in secret and little-known aspects of London. He has also devised a number of London walking tours, focussing on little-known or unusual aspects of the city. His previous book with Dazely is the acclaimed Unseen London.