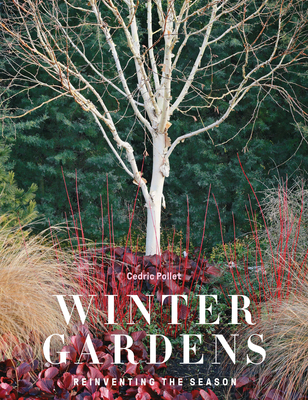 Winter Gardens (Hardcover)
Reinventing the Season
Frances Lincoln, 9780711239159, 224pp.
Publication Date: October 5, 2017
* Individual store prices may vary.
Description
WINNER OF THE GARDEN MEDIA GUILD - GARDEN BOOK OF THE YEAR AWARD 2018

Cedric Pollet is the author / photographer of the acclaimed book Bark: An Intimate Look at the World's Trees (over 50,000 sales worldwide). In his next book, he visits 20 of the most beautiful winter gardens in France and the UK, showing with stunning photography the ways in which they delight in this often neglected season, using structural planting, subtle textures, and pops of colour from branches and berries. The second half of the book is an illustrated directory of over 300 plants which encourage readers to achieve these effects in their own gardens. There is nothing else available like this large format inspirational reference book, by one of today's masters of garden photography.
About the Author
Cédric Pollet has combined his scientific background and his passion for plants to create a highly informative text, which compliments the beauty of his photographs. He is the author of Bark: An Intimate Look at the World's Trees, which was awarded the Redouté Prix Artistique for 2009 in his native France and sold over 50,000 copies worldwide.
Praise For Winter Gardens: Reinventing the Season…
"Cédric Polletis to be congratulated not only for providing such stunning photographs illuminating winter colour in all its glory, but also for the detailed research he has put into this superb book."
 
 
- Adrian Bloom, president of world renowned nursery Blooms of Bressingham in Norfolk
"a startling riot of colour and texture"
- Evening Standard
"Page after page of spectacular textures and colours... This book reminds us that gardening is life and life goes on in every moment... Winter is as alive and vibrant as summer - when you let it be. Here's a way to make it so." 
- Irish Examiner
"I think it's a beautiful book that will be well received in the UK. The photography is brilliant and shows the gardens off to their best. You have picked the best gardens in the UK and I believe that people will want to buy a copy, including myself." 
 
- Tony Kirkham, head of the Arboretum, Royal Botanic Gardens Kew
In his fabulous new book, Pollet showcases the rich palettes, luminous colours and fierce evergreens that populate nature at its nippiest. Featuring more than 20 breathtaking gardens in the UK and France, it will have you pulling on your wellies before you've even put it down. 
- Daily Mail
A spectacular book. Pollet is a French nature photographer with a singular eye for the colors and patterns in bark. (Seattle Times)
Bark will have you panting; it is the last word in garden porn. Printed on the glossiest paper, it's a large-format book showing ... well, bark, tree skin, with full-length tree portraits thrown in to lower the temperature a little. Pollet has spent years travelling the world with his camera and has produced what, at first glance, might be a book on abstract painting, such are the patterns, textures and vibrant colours. For once the word gorgeous truly applies, and if there's not much reading here it doesn't matter. Look at that Tasmanian snow gum! Look at that bull's-horn acacia! Phwoaar! Show me the nature-lover who could resist. (Times)
"This book is a beautiful guide to the best gardens to enjoy all that is amazing about winter in the plant world and the wonderful photography brings everything to life!  Showcasing the seasons in a garden are very important to creating all year interest and diversity and for me winter is one of the most beautiful, where choosing plants wisely can help to create a dazzling display. You may think that the range of plants is limited but that's not the case as this book highlights."
 
 
- Jonathan Webster, curator of RHS Garden Rosemoor
To ignore the opportunities brought by winter is to dismiss at least a quarter of the gardening year, especially now that the selection of winter plants presently available to gardeners is vastly improved… Such is the point driven home by Cedric Pollet, whose richly coloured new work is a call to view this neglected season in a completely new way.  Pollet deftly highlights the fact that most winter pleasures are revealed only to those who will look…. This is a glorious book to be savoured on a long, damp afternoon. 
 
- The English Garden
The best winter gardens in the UK and France, highlighting an indispensable palette of plants used in their creation. This book will appeal to plantsmen and garden designers alike, as well as those who simply enjoy visiting gardens,
 
- Gardens Illustrated