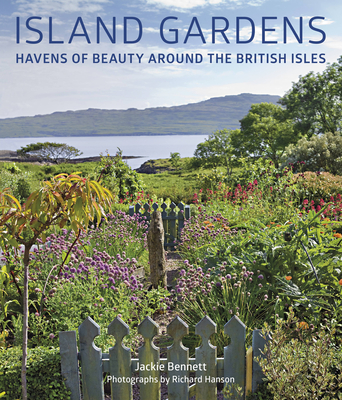 Island Gardens (Hardcover)
Havens of Beauty Around the British Isles
White Lion Publishing, 9780711239753, 192pp.
Publication Date: September 4, 2018
* Individual store prices may vary.
Description
From Tresco to Lindisfarne, Anglesey to Sark, travel around the British Isles and discover the most beautiful and extreme island gardens on this visually stunning tour. The British Isles consist of more than 6,000 islands scattered around the main islands of Britain and Ireland. More than 100 of these British off-shore islands are inhabited – and where there are people, there are gardens. Lighthouse gardens, gulf-stream-soaked, tropical gardens, windswept remote gardens with giant and ancient yew trees, and gardens surrounding castles and monasteries of historical significance. Encounter a huge variety of habitats and gardening conditions, from coastal machair to woodlands, mountains, dunes and meadows, and explore a wide range of aspects, from shady dells, to sunny banks, deep-soiled productive gardens to rocky, alpine slopes. While they can differ dramatically with regards to aesthetics, what all island gardens share is the special light, magical atmosphere and indefinable magic that a proximity to water can bring. Here, Jackie Bennett reveals the challenges their gardeners face, the designs required in such extremes, and the skills their gardeners have mastered to survive and thrive, accompanied by stunning photography by garden and drone photographer Richard Hanson.
About the Author
Jackie Bennett has travelled widely, visiting and writing about gardens. Her books include Shakespeare's Gardens, The Writer's Garden, Wild About the Garden and Island Gardens. She is a former editor of The Garden Design Journal and The English Garden.
Richard Hanson's work has appeared in books and magazines and he has photographed in the gardens of well-known garden writers such as Helen Yemm, Ursula Buchan, Francine Raymond and Ronald Blythe. His photography has been featured in The Garden Design Journal, and Gardening with the National Trust.
Praise For Island Gardens: Havens of Beauty Around the British Isles…
"Stunning photos make this a perfect gift."
- Woman and Home
"There is something romantically enticing about islands, so Island Gardens is a particular treat."
- Country Living
"Part travel inspiration for the outlying islands of the British Isles and part informative guide...enlivened by a generous dose of storytelling. This jewel of a book combines really engaging, well-researched content with the glossy beauty of a coffee-table production."
- Gardens Illustrated
"Island Gardens...is as good as its word. The poetry, if not the sequence of the Shipping Forecast seems to accompany our circuit of the UK...guided by Bennett's thoughtful, sensitive commentary and alluring photographs by Richard Hanson. A real treat."
- Ham & High
"There are more than 6000 islands scattered around the the main islands of Britain and Ireland, and Island Gardens is a beautiful book celebrating the diverse plant life to be found."
- People's Friend
"informative, well-written and beautifully illustrated"
- Blackberrygarden.co.uk
This well-written book is a visual delight, appealing to sophisticated travelers or adventurous gardeners who may consider visiting these unique locales
- Library Journal
"If you dream of escaping from it all, this is the book to transport you."   
- Daily Mail
"a brilliant concept, well executed, exploring both the special joys and challenges of island gardens..."
- Evening Standard