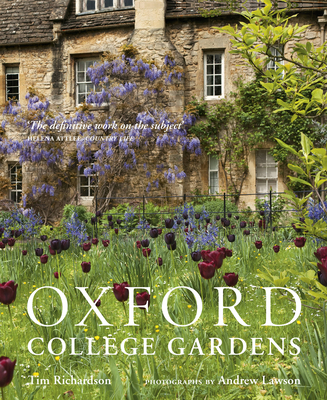 Oxford College Gardens (Hardcover)
White Lion Publishing, 9780711239784, 320pp.
Publication Date: September 4, 2018
Other Editions of This Title:
Hardcover (9/3/2015)
* Individual store prices may vary.
Description
From the bijou corners of Corpus Christi to the wide open lawns of Trinity, Oxford's gardens are full of surprises and hidden corners - not least the fellows' or masters' gardens, which are usually kept resolutely private. Take a tour of the stunning gardens of this prestigious British institution without leaving your armchair with this elegant, authoritative analysis full of glorious photographs which reveal their full interest and charm. The gardens of Oxford's thirty or so colleges are surprisingly varied in style, age and size, ranging from the ancient mound in the middle of New College to the fine modernist design which is St Catherine's. The eighteenth-century landscape school is represented in the magnificent acreage of Worcester, while the twentieth-century vogue for rock gardening is reflected at St John's. Founded in 1621, the university's Botanic Garden is the oldest botanic garden in Britain, holds one of the most diverse plant collections in the world, and has been a source of inspiration for writers from Lewis Carroll to Philip Pullman.
About the Author
Tim Richardson is a writer who specializes in garden and landscape design and history. He has been gardens editor at Country Life, and landscape editor at Wallpaper* magazine, and was founding editor of both the award-winning gardens magazine New Eden and Country Life Gardens. He contributes to the Daily Telegraph, House and Garden, Gardens Illustrated and Country Life. He is the author of Phaidon's The Garden Book, Vanguard Landscapes Gardens of Martha Schwartz, English Gardens of the 20th Century and Arcadian Friends: the Makers of the English Landscape Garden. He is also the author of The New English Garden (Frances Lincoln).
Andrew Lawson is widely regarded as England's leading garden photographer. He has provided the photographs for many books, including Good Planting by Rosemary Verey, Penelope Hobhouse on Gardening, Designing Gardens by Arabella Lennox Boyd, Little Sparta (9780711220850) by Jessie Sheeler, The Garden at Highgrove by HRH Prince of Wales, and The English Garden by Ursula Buchan and The New English Garden also by Tim Richardson. He holds the Royal Horticultural Society's Gold Medal for Photography and the Lifetime Achievement Award of the Garden Writer's Guild. His garden in Oxfordshire is open under the National Gardens Scheme.
Praise For Oxford College Gardens…
'Another treat...with beautiful photographs...This is a book to be savored; sketching out a history of Oxford, its text is as lively and informative as its photographs are absorbing.'
- New York Times
'Hidden behind high walls and through gated arches, the gardens at Oxford's colleges have always been the preserve of a select few. Now it's possible to take a look at the beautiful and prestigious grounds in this fabulous book, with pictures by Andrew Lawson. If you want to peek into the cottagey gardens at Pembroke or the open lawns of Trinity, or even trick people into thinking you studied at Oxford, then this is the book for you.'
- Daily Mail
'These Pembroke men make a dream team, since Lawson has a true and careful eye while Richardson is a most thoughtful and intelligent writer'
- Spectator
'Richardson's well-informed narrative and Andrew Lawson's superb pictures conjure the gardens at their peak'
- FT Weekend
'Exquisite.'
- Guardian