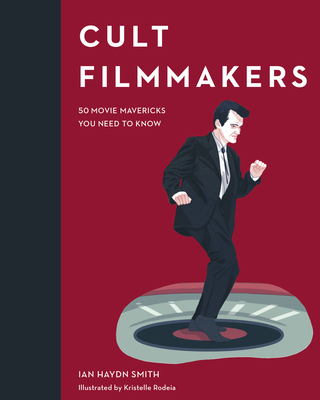 Cult Filmmakers (Hardcover)
50 Movie Mavericks You Need to Know (Cult Figures)
White Lion Publishing, 9780711240261, 144pp.
Publication Date: September 3, 2019
* Individual store prices may vary.
Description
What makes a cult filmmaker? Whether pioneering in their craft, fiercely and undeniably unique, or critically divisive, cult filmmakers come in all shapes and guises. Some gain instant fame, others instant notoriety, and more still remain anonymous until a chance change in fashion sees their work propelled into the limelight.

Cult Filmmakers handpicks 50 notable figures in the world of cinema and explores the creative genius that earned them the 'cult' label, while celebrating the movies that made their names. The book features both industry heavyweights like Tim Burton and David Lynch to the strange and surreal imaginings of filmmakers such as Alejandro Jodorowsky and Ana Lily Amirpour. Discover the minds behind such beloved features as Melancholia, Easy Rider, Lost in Translation and more. From little knowns with small, devout followings, to superstars walking the red carpet, each is special in their individuality and their ability to inspire, antagonise and delight. 

Cult Filmmakers is an essential addition to any film buff's archive, as well as an entertaining introduction to the weird and wonderful world of cinema.

The filmmakers: 

Ana Lily Amirpour, Kenneth Anger, Gregg Araki, Darren Aronofsky, Mario Bava, Kathryn Bigelow, Anna Biller, Lizzie Borden, Tim Burton, John Carpenter, Park Chan-Wook, Benjamin Christensen, Vera Chytilova, Sofia Coppola, Roger Corman, Alex Cox, David Cronenberg, Claire Denis, Amat Escalante, Abel Ferrara, Georges Franju, Lucio Fulci, Terry Gilliam, Lucile Hadzihalilovic, Dennis Hopper, King Hu, Jim Jarmusch, Jean-Pierre Jeunet, Alejandro Jodorowsky, Harmony Korine, Barbara Loden, David Lynch, Guy Maddin, Russ Meyer, Oscar Micheaux, Takashi Miike, Gaspar Noe, Gordon Parks, George A. Romero, Ken Russell, Susan Seidelman, Seijun Suzuki, Larisa Shepitko, Quentin Tarantino, Melvin van Peebles, Lars von Trier, John Waters, Nicolas Winding Refn, Edward D. Wood Jr., Brian Yuzna.
About the Author
IAN HAYDN SMITH is a UK-based writer and editor. As a journalist he has written on film and the arts for numerous media outlets, both print and broadcast. From 2007 to 2012 he was editor of International Film Guide. Since 2011 he has been editor of Curzon Magazine and is series editor of 24 Frames. He has spoken at film festivals and cultural events around the world, both as a critic and as a representative of the British Council. He has interviewed a variety of filmmakers and artists, including Ralph Fiennes, Clint Eastwood, Isabelle Huppert, Alan Bennett, Ang Lee, Agnès Varda, Terry Gilliam and Anton Corbijn. Recent publications include editing the updated edition of 1001 Movies to See Before You Die. He lives in London.
Praise For Cult Filmmakers: 50 Movie Mavericks You Need to Know (Cult Figures)…
"Mr. Smith's definition of "cult" might not be what everyone expects...he explains that "rather than offering an authoritative guide through a rich history of cult filmmaking, this book aims to be another voice in the conversation about cult cinema."
- Cinema Sentries