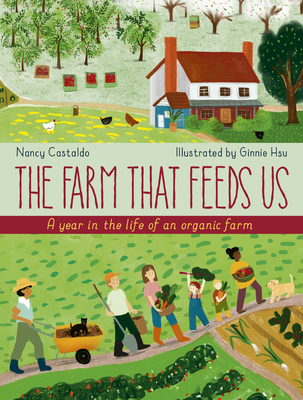 The Farm That Feeds Us (Hardcover)
Follow a family farm through all four seasons
words & pictures, 9780711242531, 80pp.
Publication Date: May 5, 2020
* Individual store prices may vary.
Description
The content will take a gentle approach to farming, looking at a small-scale, organic farm and how this can be sustainable and more in tune with nature. Throughout the book will run a thread exploring how, while it's the farm that feeds us, the farmer must also feed and care for the farm.

There will be much for the reader to explore in the book, whether reading cover-to-cover or dipping in and out. Some pages and spreads will just feature illustrations, while others will be a mix of text blocks and illustrations. Some spreads will take a more diagrammatical or catalogue approach, featuring, for example, the species of wildflower to be found in a fallow meadow, or the variety of chicken breeds.
About the Author
Nancy Castaldo has written books about our planet for over 20 years. Her 2016 title The Story of Seeds: From Mendel's Garden to Your Plate, and How There's More of Less To Eat Around The World introduces readers to the importance of seeds, farming, and the crisis we currently face. It received the Green Earth Book Award and many other accolades.
Ginnie Hsu is an illustrator, designer and educator living in Mississippi. Her work is often inspired by everyday life, nature, human living, and well-being. Ginnie also enjoys foraging, yoga, and herbalism.