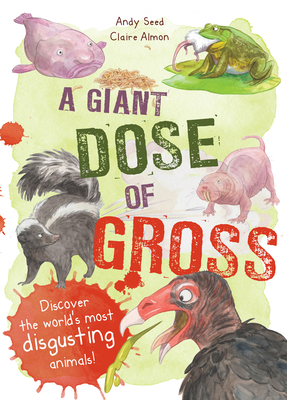 A Giant Dose of Gross (Hardcover)
Discover the World's Most Disgusting Animals!
QEB Publishing, 9780711243514, 64pp.
Publication Date: September 17, 2019
* Individual store prices may vary.
Description
Nature's most disgusting creatures take center stage, in this humorous but enlightening collection of downright disgusting creatures.

From puking vultures and farting goats to stinky opossums who pretend to be dead, this title will include disgusting facts exploring each animal's unusual skills and how they use them to survive. Humorous illustrations celebrating weird and wonderful creatures will delight any child with an interest in animals and nature, particularly those with a fondness for the grosser things in life.
About the Author
Andy Seed is an author and poet, living in North Yorkshire, England. He writes memoirs, funny poems, and humorous non-fiction books as well as all sorts of things for teachers. Andy's most popular book for adults is All Teachers Great and Small and his most popular book for children is a non-fiction book, The Silly Book of Side-Splitting Stuff, which won the 2015 Blue Peter Best Book with Facts Award.
Claire Almon lives and works in Atlanta, Georgia. Claire specializes in creating fun, dynamic characters full of life and wit. Although she can work in several styles, her voice always comes through with strong narrative. Claire holds a BFA in illustration and an MFA in animation.