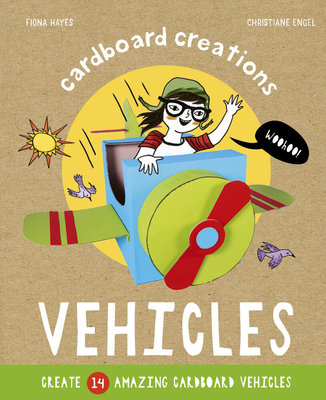 Vehicles (Hardcover)
Create 14 Amazing Cardboard Vehicles (Cardboard Creations)
QEB Publishing, 9780711243606, 48pp.
Publication Date: October 15, 2019
* Individual store prices may vary.
Description
Nothing beats the joy a cardboard box can bring on a rainy day. Want to fly a plane? Get a cardboard box. Want to go to space? Cardboard box. Want to build a castle and hold a jousting tournament? That's right—you need a cardboard box! Cardboard Creations is bursting full of ideas for how to turn that magical cardboard box into so many exciting playthings. In Vehicles, you can build a car to race in or a rocket ship to fly to space in using the simple instructions and full color photos. Like the humble cardboard box, this book will stretch as far as your imagination will allow. What will you build?
About the Author
Fiona Hayes has illustrated, designed and written children's books for nearly 20 years, and has worked with children and adults on a wide range of craft projects. She has always loved making things, from baking to all sorts of crafts. From her point of view, things you make are always better than anything you can buy, and best of all, creating wonderful stuff makes you and everyone else smile!
Christiane Engel is an award-winning illustrator and author. Her work can be found in a huge variety of kids' books all over the world, including a kids' bible and a children's atlas as well as Walter Foster Jr.'s ABC Love and ABC Yoga. Her instantly recognizable children's characters appeared in an award-winning ad campaign in the UK and she works with the Surrey County Council to create advertising and educational material for families. She has also created illustrations for animated programs for clients including the BBC. Christiane lives by the sea in southeast England with her little family. Learn more at chengel.myportfolio.com.