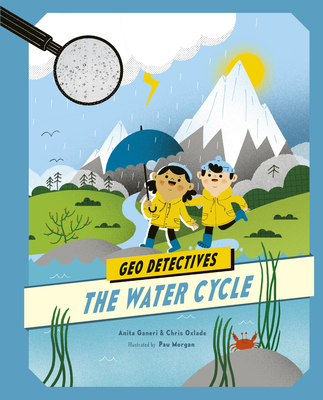 The Water Cycle (Geo Detectives) (Hardcover)
QEB Publishing, 9780711244641, 32pp.
Publication Date: September 17, 2019
* Individual store prices may vary.
Description
Explore, create, and investigate with Ava and George - the Geo Detectives! Use your detective skills to find out about the amazing water cycle.

With the Geo Detectives series, join two young detectives, Ava and George, in a hands-on exploration of the natural world. Learn about exciting geography topics, then investigate further with fun activities and projects to do at home and outside.

Where does rain come from? What happens during the water cycle? How can we predict the weather? Discover what incredible things happen in nature and use your own skills to find out why! Get answers about:
Clouds by making your own mini cloud inside a jar
How to measure rainfall by creating your own rain gauge with things from around the house
How water shapes the land by making a model river
Hydropower by using CDs and other everyday items to make a water wheel
And much more!
Encouraging young readers to investigate geography topics and to have fun while learning, this book will amaze and astound any reader with an interest in science and nature.
About the Author
Chris Oxlade is the best-selling author of more than 150 non-fiction books for schools, libraries and the book trade. Much of his work has involved explaining technical subjects clearly for young readers.
Anita Ganeri has written many books, including the award-winning Scholastic series Horrible Geography. She lives with her family in West Yorkshire, England. Anita is a Fellow of the Royal Geographical Society, and honorary Fellow of the Royal Scottish Geographical Society. In 2010 she was awarded the Tivy Education Medal for her "outstanding contribution to geographical education." Anita would have loved to have been an explorer, and always has a suitcase packed.
Paulina Morgan works as an independent illustrator based in Santiago de Chile. She studied design before moving to Barcelona, Spain to obtain her master's degree in Art Direction. She worked in advertising before deciding to pursue her passion for illustration.
Richard Hatwood is a primary teacher who trained at Bangor University. Having taught for over ten years, Richard is now a subject specialist in geography. He is also a curriculum consultant and provides school improvement services to schools across the United Kingdom, with a focus on developing high quality teaching and learning in geography.