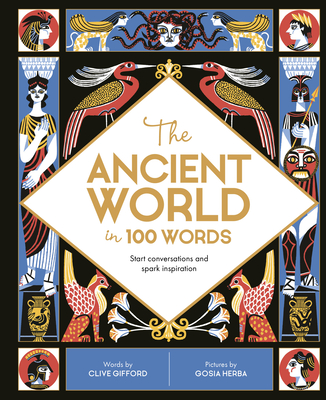 The Ancient World in 100 Words (Hardcover)
Start conversations and spark inspiration (In a Nutshell)
words & pictures, 9780711244665, 112pp.
Publication Date: October 15, 2019
* Individual store prices may vary.
Description
How do you sum up the ancient world in just 100 words? This book takes on the challenge!
With 100 carefully chosen words, each explained in just 100 words, this book provides a quick and fun insight into the characters, events and inventions of the ancient world. With entries on the Egyptians, the Phoenicians, the Minoans, the Greeks,and the Romans, this book is an easy way to gain a rounded knowledge of the subject area, while also sparking discussion and provoking thought from readers, young and old. 

What were pyramids used for?
How did the Romans fight battles?
Which Greek inventions are still used today? 

Each word is brought to life with engaging illustrations and absorbing text, sure to inspire the imagination of budding historians.
About the Author
Gosia Herba is a professional illustrator, originally from Poland. She's worked as an illustrator of children's books, graphic novels, magazines, music labels, and advertisements for nearly 10 years.
Clive Gifford has traveled to more than 70 countries, climbed rocket launch towers, ridden on robots, and flown gliders. He's had more than 200 books published and has received nominations for or won Royal Society, School Library Association, Smithsonian, and TES awards. He won the Blue Peter Book Award for Best Book with Facts 2019 for his title The Colors of History (QEB). Clive lives in Manchester, UK.