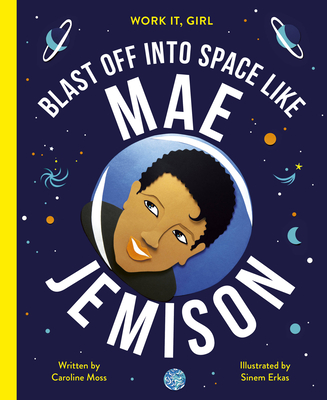 Work It, Girl
Mae Jemison: Blast off into space like
Hardcover

* Individual store prices may vary.
Description
In this imaginatively illustrated book from the Work It, Girl series, discover how Mae Jemison became the first African American woman in space in this true story of her life. Then, learn 10 key lessons from her work you can apply to your own life.

When Mae Jemison was a little girl, she loved science, dancing, and dinosaurs. She watched the Apollo moon landings and wondered why none of the astronauts were women—and she just didn't buy the answers she was given...

Work It, Girl is an empowering series of biographies featuring modern women in the world of work, from designers and musicians to CEOs and scientists. Each of these vibrantly illustrated books tells the story of a remarkable woman in 10 chapters that highlight transformative moments in her life, following the ups and downs that she faced on her road to success. At the end, 10 key lessons show what you can learn from these moments, and self-reflection questions help you apply these lessons to your own life. Brightly colored photo illustrations of 3-D cut paper artwork featuring inspiring quotes from these amazing women bring their stories to vivid life. Learn how to work it as you lay the foundations for your own successful career.
Praise For Work It, Girl: Mae Jemison: Blast off into space like…
"A very well-executed, colorful, and detailed biography of an American heroine."—School Library Journal, starred review

"A beautifully engaging biography series."—Maggie Reagan, Booklist

"An approachable, relatable introduction Jemison's life."—Publishers Weekly
Frances Lincoln Children's Books, 9780711245150, 64pp.
Publication Date: March 3, 2020
About the Author
Caroline Moss is an author based in Brooklyn, NY. She has written for The New York Times, New York Magazine, Cosmopolitan and more. Her first book, "HEY LADIES!" came out in May 2018. She loves scary movies and pickles.
Sinem Erkas is a graphic artist and art director with an appetite for experimentation and a good sense of fun. Mainly working in publishing, her practice ranges from digital artworks to 3D photo-illustrations – her favourite projects involve creating playful and bold imagery that make you look twice. Based in South London, she graduated from Central Saint Martins in 2008 (1st in BA Graphic Design). She has since acquired numerous awards for her designs and illustrations, and her work has been included in London exhibitions and the Venice Biennale '09.