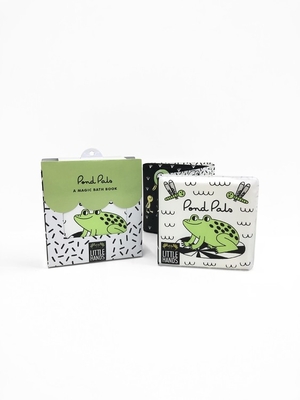 Pond Pals (Bath book)
A Magic Bath Book (Little Hands Bath Books)
words & pictures, 9780711250574, 8pp.
Publication Date: May 19, 2020
* Individual store prices may vary.
Description
Make bath time magical with this stylishly illustrated accordion-fold bath book! Splish splash and be amazed as a beautiful black-and-white pond habitat comes to life when brushed with water, revealing a world of color. Smile with frog as she jumps in the water to greet her happy tadpoles and quack at the bumblebee with little duckling as he follows his family through the fish-filled pond.

Keep baby entertained and learning in the bath with Little Hands Bath Books. Babies are born with undeveloped vision and researchers have found that they strongly prefer high-contrast images that stand out in their blurry new world. With an accordion fold and colors that are revealed by water, each of these durable bath books features enchanting, high-contrast illustrations of a lively panoramic scene on one side and individual labeled creatures on the other. Little ones will be enthralled as they develop their vision and language skills, as well as hand-eye coordination. Each book comes beautifully packaged in a plastic-free box.
About the Author
Teresa Bellon was born in Albacete, Spain. She spent a few years wandering around life, studying different things and doing drawings just for her mom and dad, until she finally accepted her fate and enrolled in a course in Illustration in Madrid. She began working for national and international clients and has since held several exhibitions. Teresa doesn't stay at home waiting for inspiration, she sets out to find it; she travels, buys illustrated books, and walks a lot in Madrid.
Words, and pictures: two little words that, together, mean a lot. A high-quality imprint for young children, words & pictures was started in 2012. The imprint encapsulates three main focuses: imagination—because opening a book should also open a child's own imagination to possibilities; innovation—because children should be encouraged to create, not imitate; and inspiration—because books should make children want more: more books, more information, more of life itself. words & pictures represents a powerful and positive opportunity to open children's minds to a world of discovery.