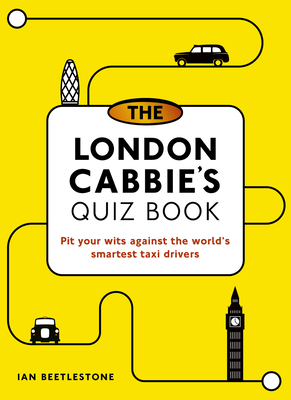 The London Cabbie's Quiz Book (Paperback)
Pit your wits against the world's smartest taxi drivers
White Lion Publishing, 9780711251052, 192pp.
Publication Date: July 28, 2020
* Individual store prices may vary.
Description
Pay a visit to London and a black cab will probably be one the first things you will see. The London taxi drivers are almost as famous as the black cabs in which they drive, this is mainly due to their in-depth knowledge of London and ability in taking their occupants to their desired destination amid the congestion and the chaos that you often find when travelling through London's streets. London taxi drivers go through stringent training to obtain their licence, they need to pass "The Knowledge", a test which is amongst the hardest to pass in the world, and has been described as 'like having an atlas of London implanted into your brain'.
 
The test requires you to master no fewer than 320 basic routes, all of the 40,000 streets that are scattered within the basic routes and approximately 20,000 landmarks and places of public interest that are located within a six-mile radius of Charing Cross. 
 
This book breaks the test down into a series of head-scratching questions and features enough trivia about the capital to surprise even born and bred Londoners. It's the perfect gift for anyone who thinks they know London inside-out, or wants to learn more!
 
About the Author
Hailing from Holmfirth, West Yorkshire, Ian studied English at the University of Leeds, graduating in 2000. After a variety of jobs including pizza delivery driver, restaurant pianist, nightclub reviewer and baker's assistant he set about learning the Knowledge in 2008 while working as an administrator at the Guardian. Ian received his Green Badge – the All London taxi driver's licence – in 2012, after more than four years of intensive study. Now a licensed London taxi driver, he also contributes to the Guardian, writes a blog called Words on the Street, and performs regularly as lead singer, pianist and songwriter with London-based band Ian Beetlestone & the Drowning Rats.