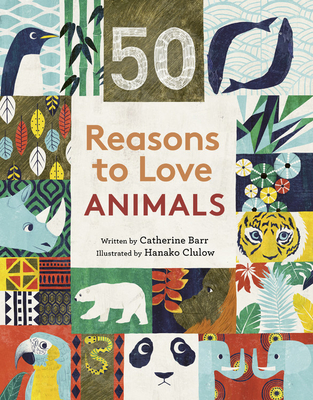 50 Reasons to Love Animals (Hardcover)
Frances Lincoln Children's Books, 9780711252462, 40pp.
Publication Date: April 7, 2020
* Individual store prices may vary.
Description
Discover 50 reasons to love animals! Lions have magnificent shaggy manes, penguins go tobogganing on their tummies, bears wiggle and dance as they scratch, whales sing songs, and elephants can feel sadness. But all the animals in this book especially need our love – now more than ever. Learn about their habitats, what makes them special, and show them you care with simple activities you can do at home.
About the Author
Catherine Barr studied Ecology at Leeds University and trained as a journalist. She worked at Greenpeace International for seven years as a wildlife and forestry campaigner and has a long-running interest in environmental issues. While working as an editor at the Natural History Museum, she researched and wrote two major summer exhibitions: Dinosaurs of the Gobi Desert and Myths and Monsters. She is now a partner in communications company bwa design. She lives on a hill near Hay-on-Wye in Herefordshire with her partner and two daughters. She is a proud Patron of Reading for a local school, and mother of two teenage girls. Catherine's first book, The Story of Life, was shortlisted for The English Association Picture Book Award.
Praise For 50 Reasons to Love Animals…
"An eye-opener."
- Kirkus Reviews
"This would be an excellent book to share with a small group or to hand to any child who loves animals."
- Kristin Williamson, School Library Journal