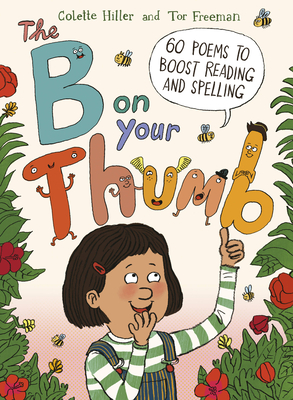 The B on Your Thumb
60 Poems to Boost Reading and Spelling
Hardcover

* Individual store prices may vary.
Praise For The B on Your Thumb: 60 Poems to Boost Reading and Spelling…
"The B on Your Thumb is clever, engaging, educational and fun. I wish I had thought of it. I can't wait to read it to my daughter."
- Craig Smith, Author/Songwriter of The Wonky Donkey
-
"A charming, gentle way to get children thinking about and playing with spellings, language and words. Proof that spelling can be a whole lot of fun."
- Jospeh Coelho, Poet and author
-
"A fun (not frivolous) phonetic friend."
- Kirkus Reviews
-
"A lovely, loony look at language!"
- Michelle Robinson, Children's Author
-
"I remember the misery I had as a child trying to pronounce and spell words. I wish this book had been around back then, it would have saved me and the teachers a lot of grief. The illustrations are fun, every page is as colourful as a jar of smarties and every rhyme is accessible. Also, its usefulness as an educational tool can't be underestimated."
- Brian Patten, Poet and author
-
"This collection of 60 poems to help three to seven-year-olds learn to read and spell is a hoot. [...] Each poem teaches a specific lesson, whether it's mastering letter sounds or explaining that words like "write" and "right" sound the same but are spelled differently."
- The Independent
-
"This is the sort of picture book that will bear up under repeated childhood readings."
- Wall Street Journal
-
"What a wonderful book! I can think of no better way to introduce children to the delights and idiosyncrasies of the English language, helping them learn to read and spell. I'm sure these joyful rhymes are destined to become beloved by teachers, parents, and most importantly, children."
- James Clements, Education writer
-
Frances Lincoln Children's Books, 9780711254602, 80pp.
Publication Date: September 1, 2020
About the Author
Colette Hiller is a writer, arts producer, and mother of twins. Her arts projects have reached hundreds of thousands of participants—she is the woman who put pianos and ping-pong tables in countless locations across the UK, and is also the mind behind the hit Talking Statues project.
Her children's rhymes have been featured on BBC Words and Pictures and her children's LP, Applehead, has been a hit with kids across the world, selling over 50,000 copies. An advocate of early learning, Colette believes that even very young children are receptive to the joy of wordplay (she taught her own twins to read by the time they were three).
Tor Freeman is a London-based illustrator. In 2012 she was awarded the Sendak Fellowship. In 2017 she won the Guardian Graphic Short Story Prize. Her books include the Digby Dog and Olive series.