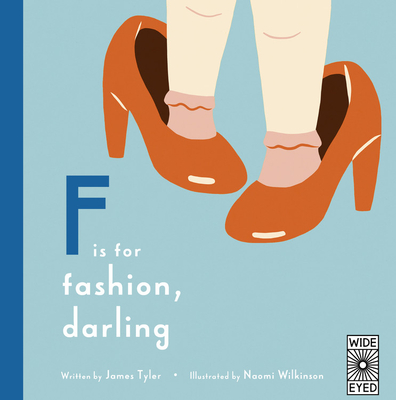 F is for Fashion, Darling (Hardcover)
Wide Eyed Editions, 9780711255678, 32pp.
Publication Date: August 4, 2020
* Individual store prices may vary.
Description
F is for Fashion, Darling is a tongue-in-chic introduction to all things cute couture, an ode to the new mommy looking to give her baby a strutting start on the important things in life.
 
This book will take you from A to Z through the most iconic words and phrases from the world of fashion. But the words and phrases spoken on catwalks and in boutiques have new meanings for new parents: Bold prints are made by mucky hands, Power dressing involves a mask and cape, and Luxury is being able to sleep through the night...
 
Babies and toddlers will love playing with this classic board book and exploring the bright, popping artworks that illustrate each letter of the alphabet in not-so-serious style. Mom and dad will be just as entertained by the knowing nods to the experience of being a new parent. F is for Fashion, Darling is perfect for anyone juggling the joy of parenthood with the responsibility of being a fashion icon.
 
This book is your chance to become the chicest mom at preschool. That's fashion, darling.
About the Author
James Tyler started out in television comedy development and now works with clients like The Beano, Just Eat and Jagermeister as a Copywriter & Art Director. He has a BA in scriptwriting from Northumbria University.  His favourite hip hop album is Low End Theory by A Tribe Called Quest. His childhood dream was to be the Fresh Prince and have a pet T-Rex. James lives and works in East London.