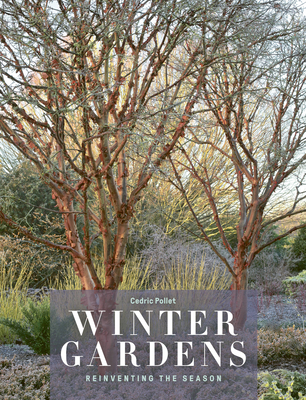 Winter Gardens
Reinventing the Season
Hardcover

* Individual store prices may vary.
Other Editions of This Title:
Hardcover (10/5/2017)
Description
In this stunning reimagination of an entire season, acclaimed and award-winning author and photographer Cedric Pollet presents 20 of the most beautiful winter gardens accross France and the UK.

Winner of the Garden Media Guild - Garden Book of the Year award, Pollet showcases these breathtaking winter gardens which are at their best when most gardens are at their barest.

Rich with blazes of colour and light, these gardens use creative structural planning and subtle textures to greate masterful visual and sensory ensembles.

From berries and barks to vibrant shrubs and evergreens, these gardens will delight and inspire in equal measure, all captured in extroardinary photographs by Pollet, one of today's masters of garden photography and accompanied by insightful text which picks out the reasons these gardens are so special.

The second half of the book is an illustrated directory of over 300 plants which encourage you to achieve these effects in their own gardens.

From the author of bestselling Bark: An Intimate Look at the World's Trees, this beautiful guide is a unique and unmissable book on some of the most creative and inspiring gardens around today.
Praise For Winter Gardens: Reinventing the Season…
'This book is a work of art. We all dream about one day capturing images of this quality on out own cameras. It will inspire many of us to travel and see these plants growing naturally with our own eyes - and maybe have one or two of them growing somewhere in our own gardens on specimen plants.' (BBC Gardens Illustrated on Bark)

Bark will have you panting; it is the last word in garden porn. Printed on the glossiest paper, it's a large-format book showing ... well, bark, tree skin, with full-length tree portraits thrown in to lower the temperature a little. Pollet has spent years travelling the world with his camera and has produced what, at first glance, might be a book on abstract painting, such are the patterns, textures and vibrant colours. For once the word gorgeous truly applies, and if there's not much reading here it doesn't matter. Look at that Tasmanian snow gum! Look at that bull's-horn acacia! Phwoaar! Show me the nature-lover who could resist. (Times)

A spectacular book. Pollet is a French nature photographer with a singular eye for the colors and patterns in bark. (Seattle Times)
Frances Lincoln, 9780711255982, 224pp.
Publication Date: December 21, 2021
About the Author
Cédric Pollet has combined his scientific background and his passion for plants to create a highly informative text, which compliments the beauty of his photographs. He is the author of Bark: An Intimate Look at the World's Trees, which was awarded the Redouté Prix Artistique for 2009 in his native France and sold over 50,000 copies worldwide.