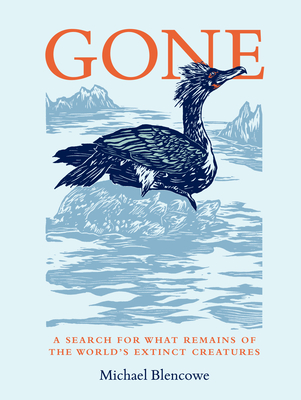 Gone
A search for what remains of the world's extinct creatures
Hardcover

* Individual store prices may vary.
Description

A modern must-read for anyone interested in protecting our earth and its incredible wildlife, Gone tells fascinating stories of 11 extraordinary extinct animals from around the world…
 
An evocative call to conserve what we have now before it is lost forever.
 
Learn what made these species unique; what their habits and habitats were; who discovered (or killed) them; what remains of them; and where we can view what survives of them today.
 
Beautifully illustrated, this is not a scientific book about the genetics and physiology of extinct animals––it is a life affirming, quirky and informative narrative that everyone will adore. 

(Re)Discover:
 
·       The Great Auk, flightless bird of the North Atlantic coastlines
·       The Spectacled Cormorant, seabird of the Komandorski Islands in the Bering Sea
·       Steller's Sea Cow, herbivorous mammal of the Bering Sea
·       Upland Moa, flightless bird of New Zealand
·       Huia, a New Zealand wattlebird
·       South Island Kōkako, forest bird of New Zealand
·       Xerces Blue, gossamer-winged butterfly of California, USA
·       Pinta Island Giant Tortoise, Galápagos tortoise of Ecuador
·       Dodo, flightless bird of Mauritius
·       Schomburgk's Deer, hoofed mammal of the plains of central Thailand
·       Ivell's Sea Anemone, worm-like anemone of Widewater Lagoon in West Sussex, England
 
With striking artworks that reimagine what these forgotten creatures would have looked like, and humorous insights from a dynamic nature expert, this book not only resurrects the animals of yesterday, but tells of the consequences that our actions today will have on the species of tomorrow. 
Leaping Hare Press, 9780711256750, 192pp.
Publication Date: April 6, 2021
About the Author
Michael Blencowe is a naturalist and writer currently living in South East England where he works for a number of UK conservation organizations including The Wildlife Trusts. He has always been drawn to the mystery and beauty of wildlife and spends time searching for bears, nightjars, scorpions, and moths all over the world. www.wildlifetrusts.org