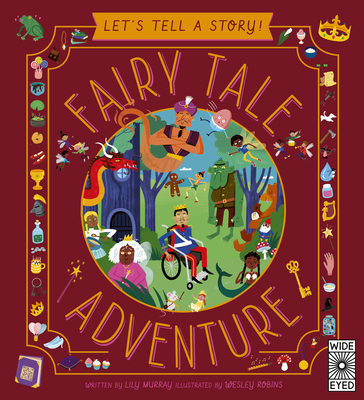 Let's Tell a Story! Fairy Tale Adventure
Hardcover

* Individual store prices may vary.
Description
Imagine if you could have an adventure in a fairy tale world.
What if you could have MILLIONS of them?
With this
story-building
book, you can tell your own
fairy tale-inspired adventures
, over and over again. Just read the question and choose from the vibrant pictures on the page to create a new story.  
The book is packed full of fun, silly and exciting things for the reader to choose from, including:
Dressing up in a pair of glass slippers
Heading off to see the Three Little Pigs
Packing a pot of fairy dust for the trip
Journeying alongside a talking toadstool
Saying hello to Goldilocks
Tasting some punch made from troll snot
Once you've finished, you can turn back to the start and make
different choices
to tell a completely new tale. There are
millions of possible combinations
and endless stories to be told! And can you find the cheeky penguin hidden on each page?  
Praise For Let's Tell a Story! Fairy Tale Adventure…
These titles guide readers as they choose and make up their own adventure. The books open with instructions for use: Readers note the question at the top of a page, choose something from the illustrations to include in their tale, then fill in their own imagined details to create a story. Each spread offers a colorful array of choices for a particular story element, from the identities and accouterments of the characters to the setting, goal, and conflict. Questions for readers are couched in second person, giving the whole adventure the engaging feel of a role-playing game. In Fairy Tale Adventure, readers will find standard fairy tale characters, props, and settings on offer alongside choices recognizable from popular children's books and classic stories. Kids will enjoy pointing out why certain items, for example, the beanstalk skateboard for transportation are familiar. Illustrations in both titles are vivid, outline-less cartoons that include a variety of skin tones and hairstyles, and abilities. For example, in the fairy tale book, the prince character uses a wheelchair. Silly humor will keep kids moving along: Readers of Space Adventure will find among their apparel options a pair of astronaut underwear and a giant space-themed onesie. These books are obvious choices for a writing center, but they can also be helpful in providing practice with those often-sidelined speaking and listening benchmarks. VERDICT These visually appealing story launchers are endlessly reusable and will become well-loved pieces in any teacher or librarian's arsenal.—Rachel Owens, O'Neal Lib., Birmingham, AL, School Library Journal
Wide Eyed Editions, 9780711257290, 32pp.
Publication Date: March 2, 2021
About the Author
Lily Murray writes both fiction and nonfiction books for children. Her previous titles include big books about dinosaurs and stories about escapee hot dogs. Follow Lily on Instagram and Twitter @lilymurraybooks
Wesley Robins is an illustrator and designer, based in London. He is the winner of the Macmillan Prize for Children's Book Illustration. Wesley is the illustrator of Amazing Evolution, published by Quarto Kids in 2019.